Wassup people!! :D
I'm on spring break now!!!! WAHAHAHAHA!!! sooooo happy!!!! After one week of rotation at a community pharmacy where I had to stand 8 hours a day... I'm finally free XD I now have legs of steel... not quite literally, but close enough XD I was all like I'm gonna playyyy during spring break but it turns out I have SO much school work to catch up with it's not even funny T_T oh well blogging first for now la la la XD
Today I just have this look to share with you ^_^ how I would wear my makeup if I was wearing this royal blue dress (: just something subtle but with a pop of color. Nothing too special really XD
The lighting really SUCKS. I know. I'm sorry. I'm thinking about reinventing my room and move my desk closer to the window (so I can get better lighting) but that will mean I have to move my bed O_O or should I just get lamps and stuff? well it's not like I make a lot of videos anyway *shrugs* and I'm sorry about my hair... it was EVERYWHERE. I need to find a better way to keep them out of my freaking face it annoyed me so much when I was editing. LOL.
Products used: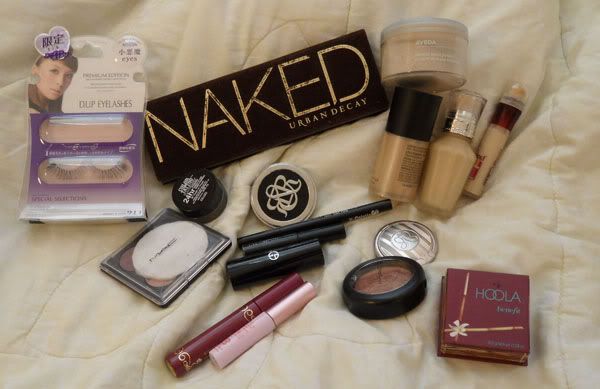 1. Maybelline Color Tattoo 24 hr eye shadow #35 Tough as Taupe
2. Urban Decay NAKED "sin"
3. Urban Decay NAKED "sidecar"
4. Urban Decay NAKED "hustle"
5. K-Palette Real Lasting Eyeliner (to tightline only)
6. MAC Liquidlast Liner in "point black"
7. MAC "constrast" eye shadow (dark navy blue)
8. Rock & Republic "electric" eye shadow (bright royal blue)
9. Urban Decay NAKED "virgin"
10. KissMe heroine make "long & curl" mascara
11. Maybelline Age Rewind Eraser Dark Circles Treatment Concealer
12. Jill Stuart Smooth Silk liquid foundation in #103 (the lighter one)
13. Giorgio Armani lasting silk UV foundation in 6.5 (the darker one)
14. Anastasia Brow Powder Duo "medium ash/brown"
15. D.U.P Eyelashes by Aiku Maikawa in #911
16. Benefit Hoola bronzing powder
17. MAC "Love Joy" Mineralize Blush
18. Giorgio Armani Rouge d'Armani lasting satin lip color in pink 515
19. Eyelashes Fixer EX lash glue (not shown in vid)
20. Aveda mineral loose powder (not shown in vid)
Holy crap that's a LOT of products I used on my face XD LMAO being girl is so much fun XD
As usual, some camwhore pics to rape your eyes XD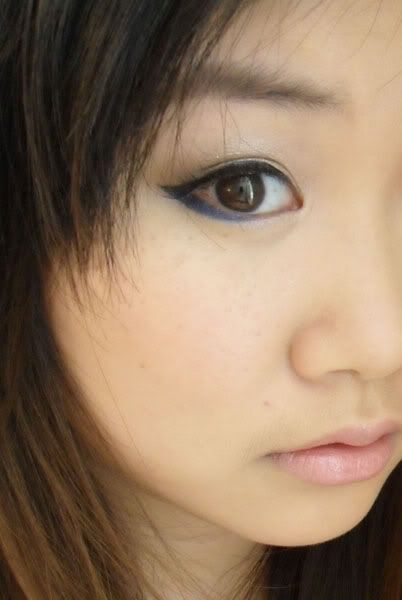 See what I mean about the terrible lighting? This is what the look is supposed to look like.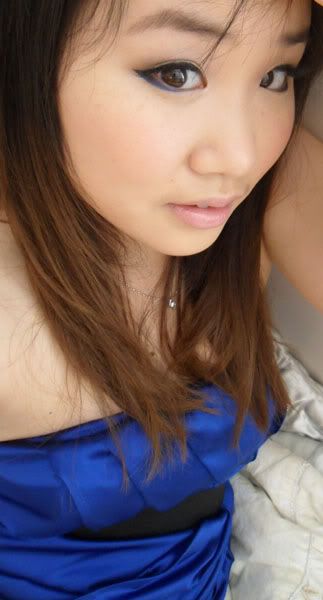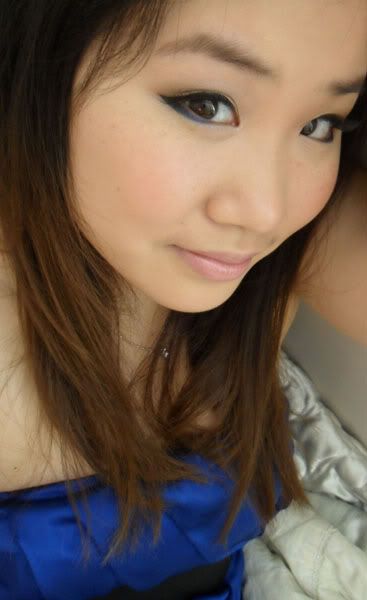 My hair really didn't want to cooperate
Yes, I like the right side of my face better LMAO mostly because the way my bangs sit lol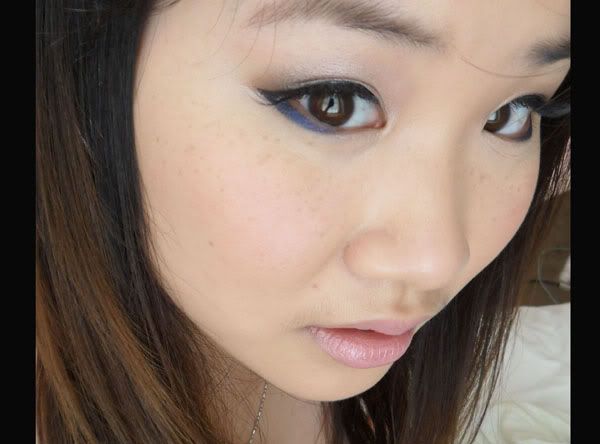 *taken with beauty function*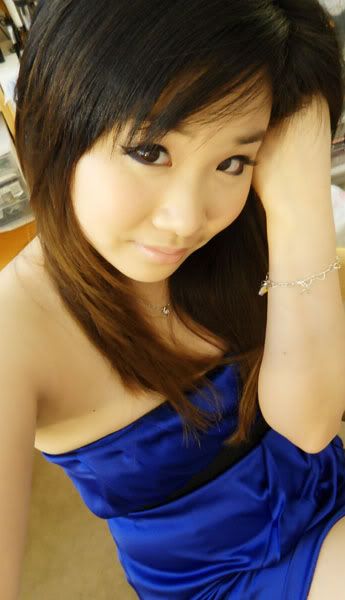 *taken with beauty function* still want to lose 5 pounds... sighhh @ my belly XD oh whatevs.
*taken with beauty function*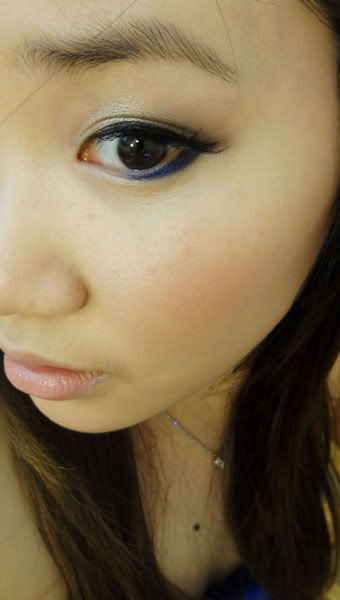 *taken with beauty function*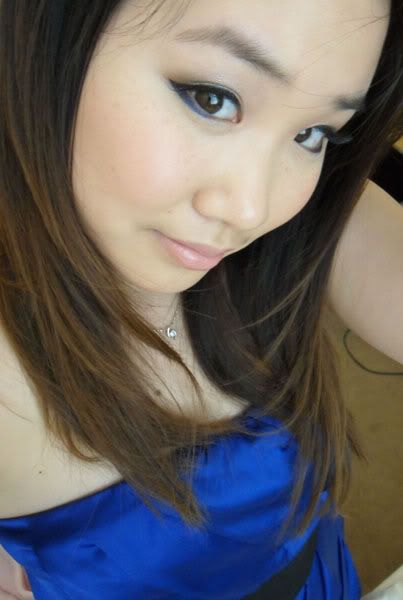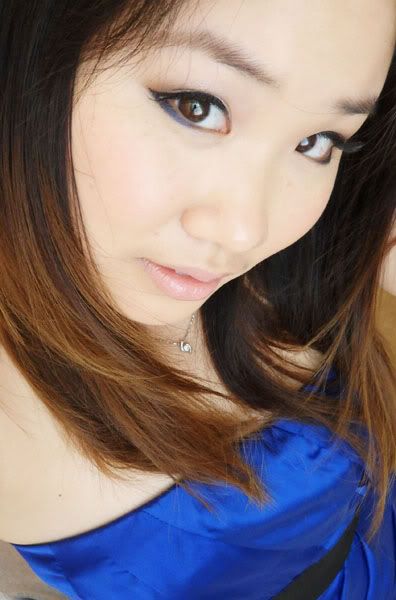 *taken with beauty function*
Hope you guys liked this look ^_~
On the other note, here are other gurus that I had recently started following ^_^ pixiwoo do you guys watch them??? I heard about them from Raeview and I checked them out before but somehow they didn't resonate with me before, but now I'm completely obsessed XD
This is one of my favorite looks... sooooo beautiful. If I become a bride one day I want to wear my makeup like this XD
Another look that I really want to try out myself. But I don't have cranberry eye shadow :( I've seen at least 3 makeup tutorials from different gurus using this very eye shadow (actually I can totally name them XD) and it makes me really want to get it... ahhhh. I just have to make do with something else. T^T
kk that's all I have for now! Gonna go catch up with some blog reading and do some school work. Later :D
<3 Frances