Hey hey hey!!
I'm so excited to share this!!!
This will be very different from what I usually do... a very, very
smokey
, sexy look =)
Inspired by the Maniac music video, by Girlicious
I've been so addicted to this song ever since it came out... and I'm sooo excited that the music video finally finally came out >_<
Love the music, love their outfit, love the choreography, love the makeup.... I love everything about this vid :P
I'm going for Nicole's look :) She's my favorite <3
I love love love her voice!
Here's a song of Nicole's solo singing... (the rapping part by Natalie)
Anywayyyy...
Here's sexy Nicole =)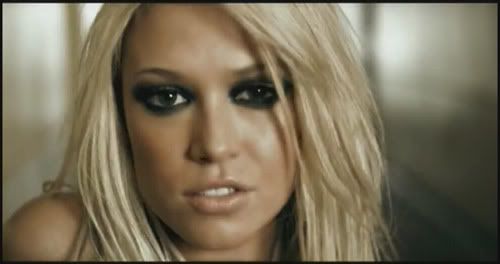 Close up on her makeup...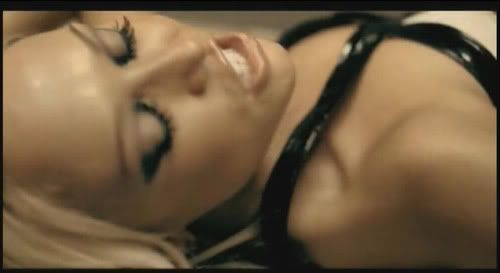 Here are all the things I used to accomplish this look:
1. Makeup Forever and Givenchy Foundation
2. MAC select moisture cover concealer (in NC 20)
3. Estee Lauder translucent loose powder
4. Matte white eyeshadow from Too Faced Natural Eyeshadow Collection
5. bareEscentuals eye shadow primer
6. Copperplate eye shadow from MAC (any similar taupes will do)
7. Jabberwocky from Urban Decay Alice in Wonderland palette (cuz I don't have a matte black eye shadow lol)
8. Urban Decay 24/7 glide-on eye pencil
(the reason I used this is for convenience... I didn't meant for the makeup to last long. Please use your favorite, long-lasting black eyeliner :D )
9. MAC mineralize blush in Light Over Dark
10. MAC Mineralize SkinFinish in Soft and Gentle
11. Blush/Contour duo in Marigold from Stila
12. Revlon lipstick in Nude
13. Victoria Secret lipgloss in Embrace
** Remember, you don't need to use the same things! Obviously I don't know what they actually use on Girlicious lol...
A few close-up pics on the products so you guys can see the color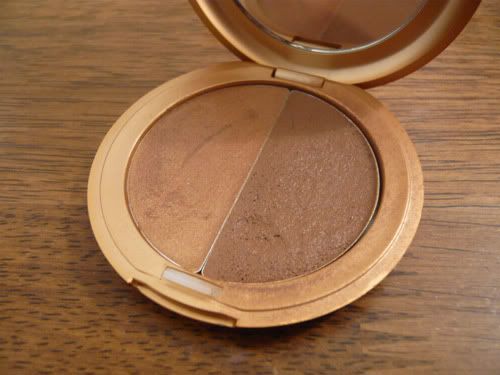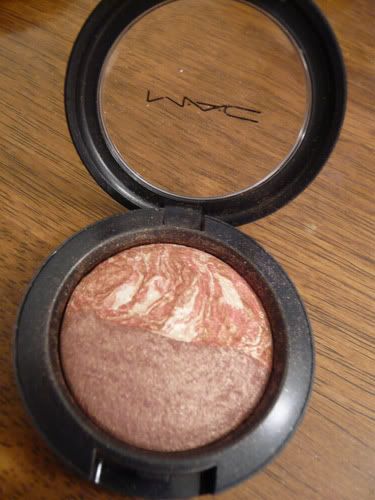 For face... apply your usual routine...
1. Foundation
2. Concealer
3. Loose powder
4. Dust Mineralize Skinfinish lightly all over your face cuz Nicole has that overall glow to her face :) just lightly though, you don't want your face to look super shiny!
I thought the eye makeup is pretty self-explanatory if you look closely at the pics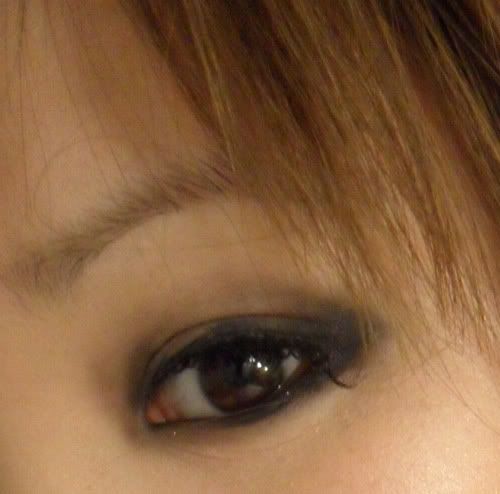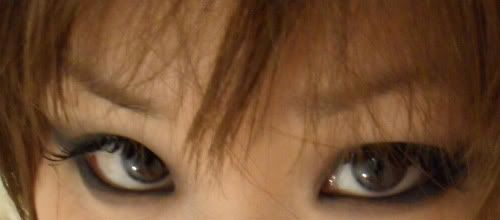 1. Define your brow bone using a matte white eyeshadow
2. Put the taupe eye shadow all over your lid, a little bit pass your crease/fold but not too high up. Bring the corner into a cat eye shape
3. Mix the black eye shadow with the taupe eye shadow and apply it on the bottom lash line. Extend to join the eyeshadow on the lid.
4. Line your eyes. If you look at her last pic, on her bottom liner, it is thick on the outer half but only her waterline on the inner half.
5. Use the black eye shadow to darken the outer corner in a V shape, as well as your inner corner.
*** Take your time to blend the black eye shadow!!! Use little by little so you won't over-do it
... It took me a while... lol
Now for the blush and contour... here's the map:
The blue part is for contouring (sides of your forehead, hollow of your cheeks, jaw line and under your chin)
- I used the brown color from Stila Marigold palette.
The pink part is for your blush.
- I mixed both colors from the Light Over Dark blush, but using a bit more of the cinnamon color on cheek bone and the lighter color above the cheek bone
- I also dusted a bit of this blush all over my face cuz my foundation is a bit too pale for this look.
For my lips, I just mixed the nude gloss with the nude lipstick with a lip brush.
That's it! Ahhh sorry it's SO long! But I hope you guys like it cuz I love this look =)
Pics will be posted separately and sooon :)
<3 Frances