Helloooooooooo =)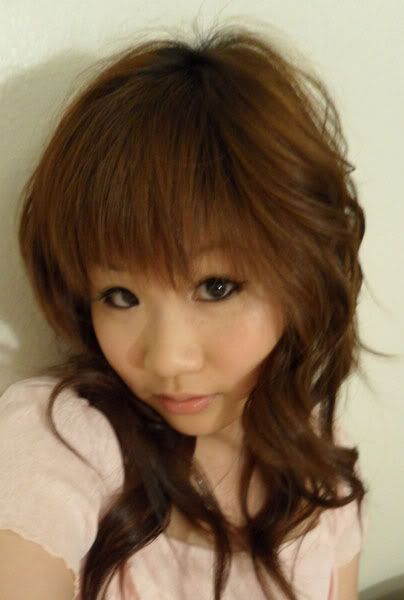 Okay this is my last entry for the Japanese Gyaru look! Cuz I'm getting sick of this look XD (well for a while at least heehee)
So what is
Hime Gyaru
? It basically means "Princess Girl." (Gyaru= gal, girl).
Yes, recently in East Asia (well I know at least for sure in Japan and Taiwan, don't know much about Korea and China/Hong Kong), there's this HUGE trend of doll-like makeup look/princess style (I even wrote a 9-page paper on it for my class before XD teehee). Honestly I was pretty into it a few years ago... but not anymore. Just doing it for fun now :P People either love it or hate it haha.
Here are a couple of examples for Hime Gyaru look: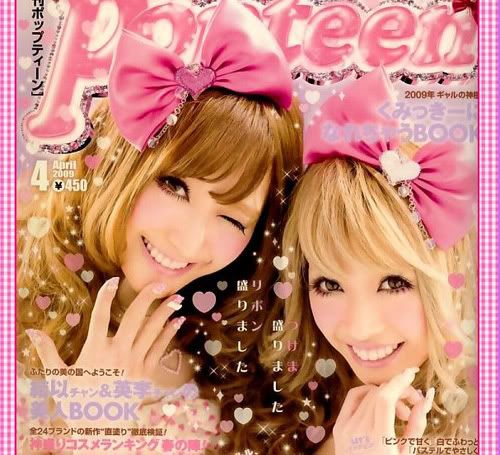 I'm not sure if there's a clear definition/characterization for Hime Gyaru look... cuz you know, things like this just keep evolving. From my research BIG hair used to be part of Hime Gyaru too. But anyway this is just MY TAKE + extremely toned down version on the hime gyaru look :)
Instead of going for the "rimming the waterline with white eyeliner" blah blah blah (if you've read my other Gyaru tutorials before lol), I'm switching it up and going for this approach: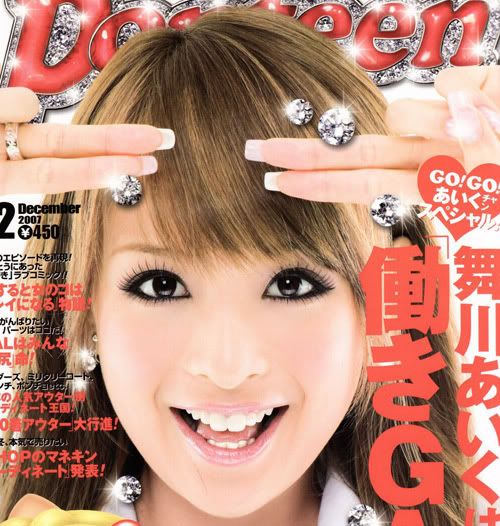 More of the framing your whole eyes/darker eyeliner look :)
So Here it is! :)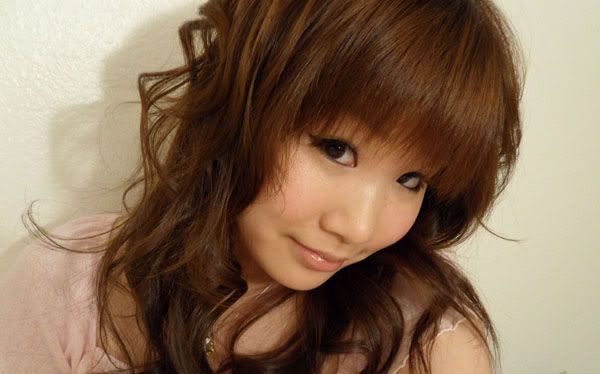 Man I couldn't find anything in my closet to go with this look at first O__O I ended up digging through some old clothes that I was planning to donate... XD they're like from 4 years ago. My style changed a lot heehee =P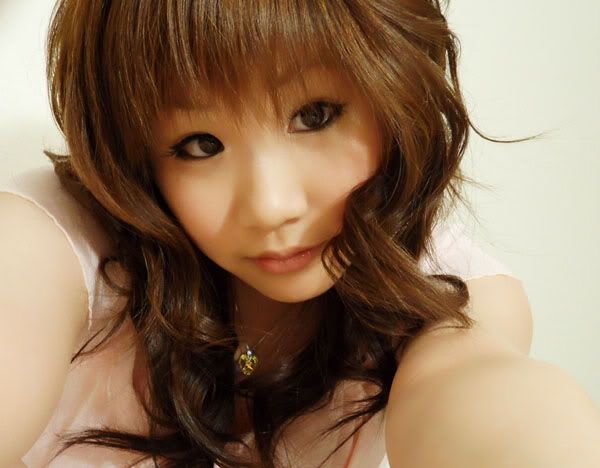 Here's the eyeliner map: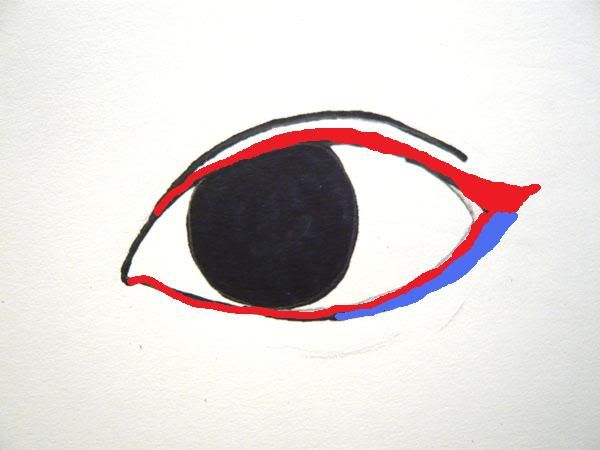 Red part is where you use your black eyeliner. Line your waterline, and make sure the outer corner is a little bit thicker. The blue part is where you cover the black eyeliner and add/smudge some brown eyeshadow on (I'm using a reddish brown). Highlight your inner corners with shimmery eyeshadow to brighten your eyes up.
Again, since I'm using extravagant falsies, I like to keep my eyes look clean. Therefore I didn't use any eyeshadow for my lids :)
For my lashes, I'm wearing these kind:
They can look a little bit intimidating (at least I never thought about buything these until I saw some Japanese models wearing something like this), but they actually produce a very nice effect :)
I got them from
prettyandcute.com
(
http://prettyandcute.com/store/product_info.php?products_id=932
)
Honestly they're not the easiest lashes to work with because they're very rubbery and the stem/rim is VERY thick
. Of course you don't have to get yours from here, just find something similar, and possibly easier to use :)
So I trimmed the lashes to fit my eyes, and
I keep the lashes I cut off. Then I trimmed the cut-off lashes so there are two bundles of hairs.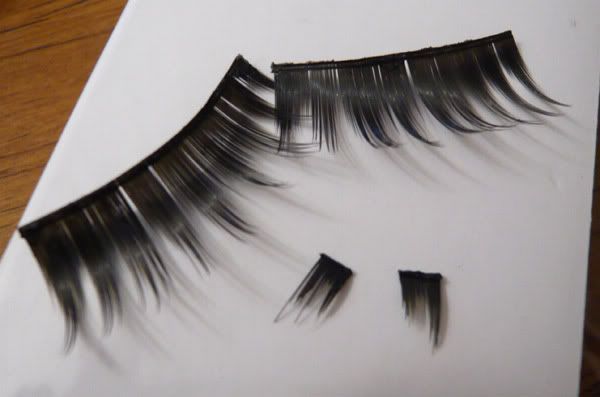 I use these as my lower lashes and I put them on the very outer corner.
(Just like the picture below for my blush XD )
Now,
the purpose of placing these lower lashes is not only because they open your eyes more so they appear bigger, but they also give the illusion of altered eye shape, like the corner of your eyes are pointed down. This has been a very popular trend in Japan because it gives you that innocent look (the so-called puppy eye effect).
For my cheeks, I'm wearing NARS Multiple Orgasm with this shape: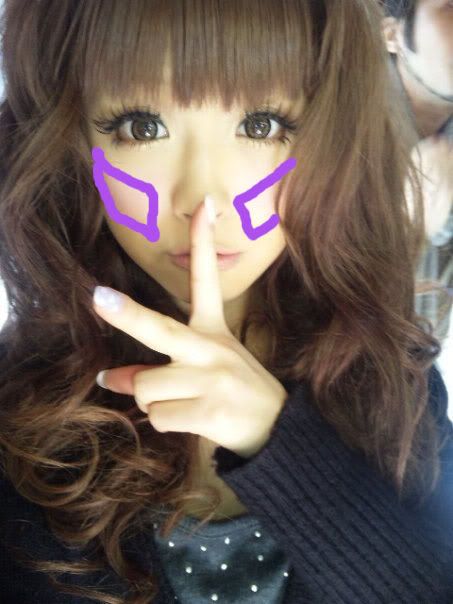 See how she also has two "chunks" of lashes on the outer corner on her bottom lashes? =) Of course she applied falsies all along her bottom lash line but I'm just too lazy honestly XD... you can totally add some if you like :) And
notice she didn't put the lashes all the way to the very outer corner, she put them slightly more inward so the illusion is even greater
. So you can do that too if you like this more. For me I just like them at the corner more because that looks more natural to me.
And on my lips, I'm just wearing a pale pink gloss, nothing else =) Feel free to add colors or nude them out (nude them out? haha) though, cuz makeup is about personal style so just do whatever feels right =D
Wow I am SO tired now! I was having nightmares last night so I didn't sleep at all... =*( I almost zonked out in my morning classes but I survived T__T it's like I knew I was dreaming, but I was sleeping BUT my mind was still working if that makes sense? I still remember everything I dreamed of last night. You guys ever got that?
Good luck if you're trying :D
<3 Frances