Hi guys!
So I took advantage of the Sephora chicweek 15% sale and picked up a few items :)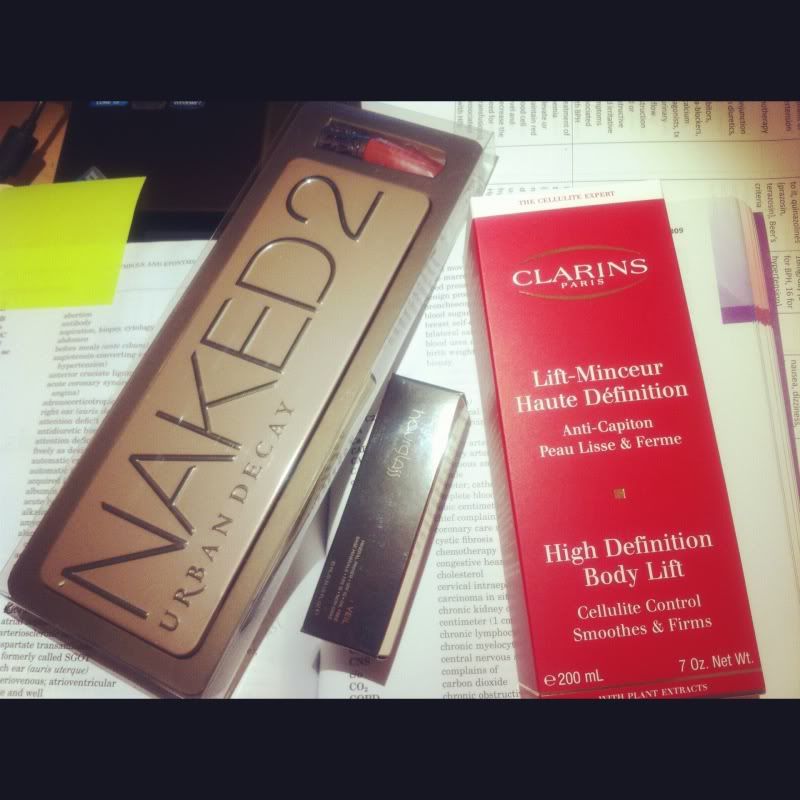 Don't mind that I just use my Instagram photos :P Too lazy to snap another picture lol.
Naked 2 palette, Hourglass Veil mineral primer, as well as Clarins High Definition Body Lift.
I haven't been using these products for long, but here are some of my general thoughts/impressions :)
First off the NAKED 2 palette!

I'm sure you guys have seen many many swatches so I'm not going to do it XD
The brush that comes with the palette has a blending end and a flat shader end. The blending brush really isn't the best. I feel like in terms of blending, natural brush hairs generally work better than synthetic brushes. I'm not sure if these are taklon fibers???? But the blending brush doesn't blend that well. The short shader on the brush is better than the blending brush, since the brush material is quite ideal for placing/packing eye shadows on.
The metal casing is much sturdier than I thought, not the obnoxious kind of metal if you know what I mean? XD When I first found out that the new NAKED palette comes in metal packaging I thought I wasn't going to like it, but I do like the packaging!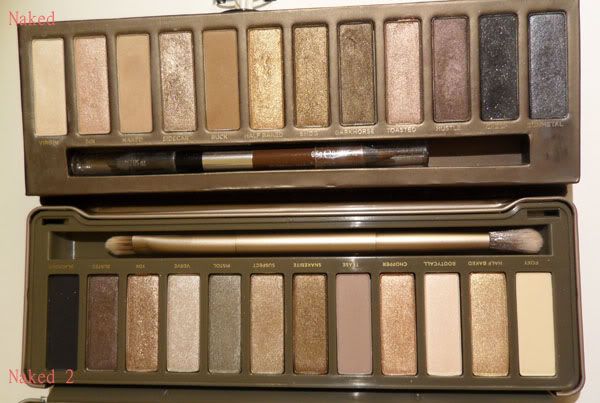 Here the palettes side by side. Don't know why I didn't put the original NAKED palette in the same direction XD but... I don't know if it's just me... I feel like the two palettes are so similar... orz
I'm not quite sure if I am going to keep the NAKED 2 palette. On my skin tone a lot of the shadows look quite similar to the original NAKED palette.
I didn't swatch all the eye shadows, I just swatched the few shadows which I thought look quite similar in the pan.
The shadows on the top are from NAKED 2 and the bottom are from the original NAKED palette.
Please keep in mind eye shadows show up VERY differently according to each person's skin tone. I'm MAC NC20-25. I'm not sure if it's because I'm fair or what, but I honestly think the colors look so similar on me, despite the minor differences that you are able to see from photography.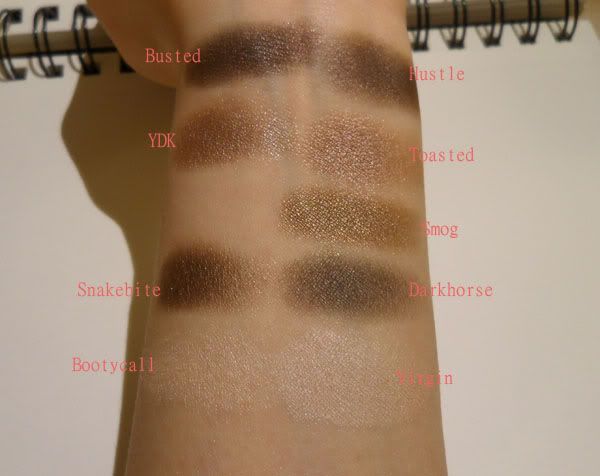 Hustle is a very very dark plum, almost like a blackish purple on me. I feel like Busted is just a darker version of Hustle.
YDK is a very shimmery/bright/metallic beige color. Toasted has a more pink lean to it. But seriously in person, the difference between the two colors are so subtle they almost look identical.
Snakebite to me is a color between Smog and Darkhorse.
Bootycall and Virgin are super similar too, but Virgin leans more pink while Bootycall is little bit more yellow.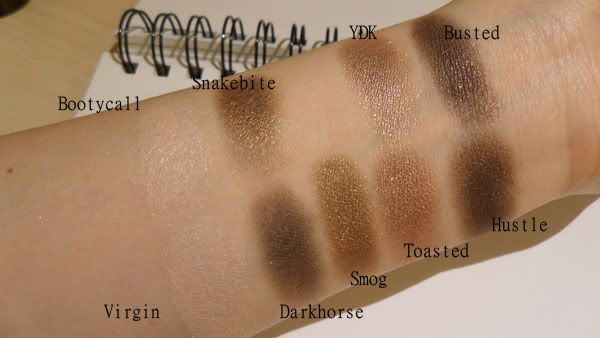 I mean, yeah, I know the eye shadows are different. But honestly the differences are pretty much magnified in the pictures, under this certain lighting. In real life honestly I can't really tell the difference (at least not at this point).
Hmmmmm I don't know... I will have to play with it a bit more to see if it's worth keeping????
Do you guys own the NAKED 2 palette? If you do, what are your thoughts on it? Do you think it's too similar to the original NAKED palette or they are completely different to you?
Also now I have the mineral primer, I'm gonna see how different it is compares to the N28 primer.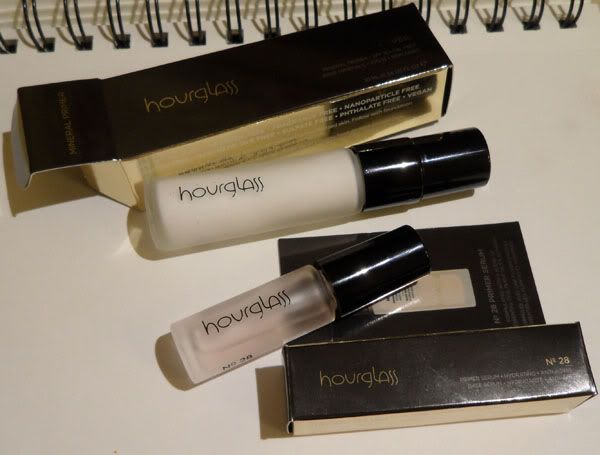 Obviously the textures of the two are completely different XD The mineral primer definitely has a smooth silicone feel to it. The N28 is in oil form and also give that smooth silicone feel but it's not as obvious as the mineral primer.
Finally, I purchased the Jeune d'age eye cream. I COMPLETELY forgot that I wanted to try this eye cream before I purchased the
Origin's eye crea
m -___-""" But this eye cream is huge! It contains 1 oz (30ml) while the Origin's only contains 15ml. And even with shipping and everything the Jeune d'age eye cream still comes up slightly cheaper than the Origin's eye cream lol.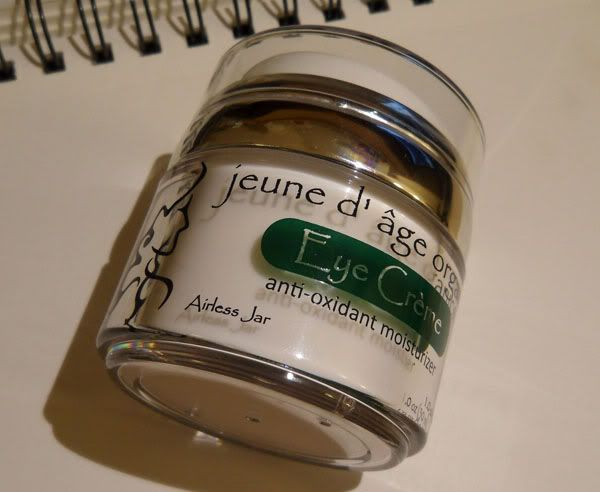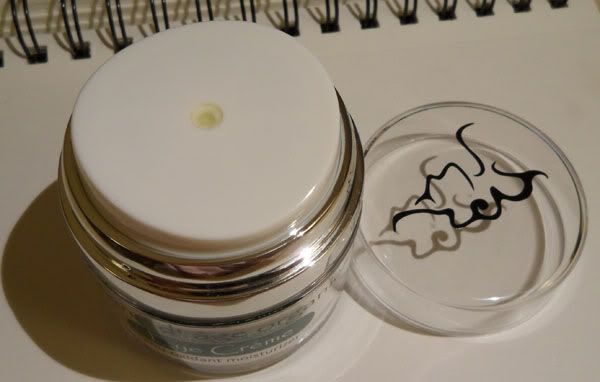 The container reminds me of the Laneige Snow Crystal Dual foundation :P It has the same dispensing mechanism.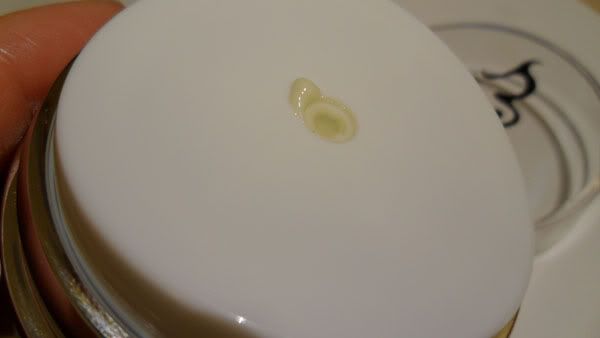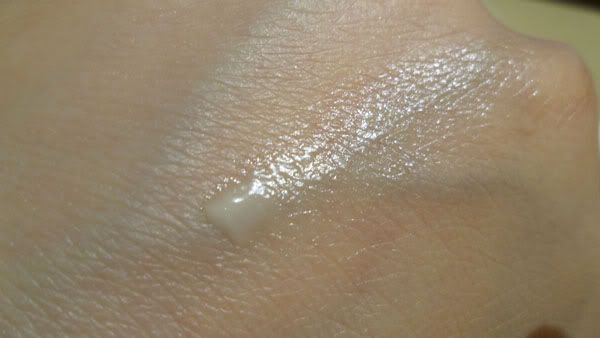 Here's a swatch so you can kind of see the texture of the eye cream. I really like the texture, but in terms of the moisturizing properties of this eye cream, it hasn't done much for my super dry undereyes and fine lines lol... I will be testing this out more, we'll see.
That's all XD haha it's like a short report lol. Off to work out now!
Have a great weekend guys :)
<3 Frances