Hi there guys!
Before I go on to show my massive haul, just wanted to let you guys know that
Sigma
is having their Black Friday free shipping event from 11/22-11/23! So this is a good chance for you to get your Sigma products without having to pay the
ridiculous
shipping! (their shipping used to be much cheaper and reasonable =T) Last Thanksgiving I wanted to buy the "
Dry n' Shape
" but I didn't manage to because the volume of the website was so high that I couldn't even access the website =_= At the moment this is really the only Sigma product that interests me. But I probably won't get it this year because I've spent so much already.
Oh and before I start I just want to update you guys that I returned my Clarisonic. I updated my thoughts on the Clarisonic/Lancome set on my Sephora haul post in red font, so if you're interested in seeing my thoughts, please click
here
to check it out :)
Okay now onto my massive haul! I really should have waited till tomorrow to write this post so I can get sunlight for my pictures, but I was so excited about some of these products that I cannot wait to share with you guys XD
1. Tarte Fantastic Foursome 4-piece Amazonian clay 12-hour blush enthusiast set
The highlight of my purchase XD Oh gawd I can't tell you guys how EXCITED I was when I saw these were (are) still available in store. And even better cuz I actually got to see the products in person before I purchase them. This set comes with a highlighter, two blushes and a shimmery bronzer. The blushes are gorgeous and matte. The color of the bronzer is gorgeous but I wonder if the shimmers are gonna accentuate my pores. The highlighter is a champagne color (which leans kind of yellow); it's pretty but I'm not too crazy about it. We'll see.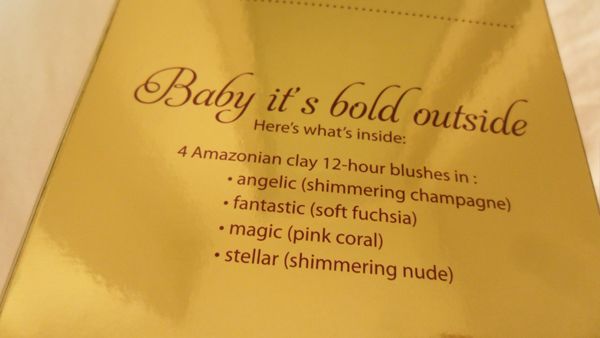 Even though I didn't manage to purchase this with 20% off, I thought $35 is such a good value for these mini blushes that I wasn't sad to pay full price for this set at all.
2. Milani Liquid Eye eyeliner and Eye Tech liquid eyeliner
Been wanting to try the Liquid Eye although I don't have high expectations. But I do use pencil eyeliners to do more smokey looks sometimes so I decided it's okay to buy one. As for the liquid eyeliner, got it to line my upper lash line since the current one I have sucks and is running out super fast.
3. Revlon Matte lipstick in "Really Red," Revlon Super Lustrous lipstick (creme finish) in "Fire & Ice" and Maybelline SuperStay 14hr lipstick in "Ravishing Rouge."
Got these after watching Lisa Eldridge's red lipstick guide video. So far I've worn Ravishing Rouge and Fire & Ice out and gotten compliments both times =D And actually got asked what I was wearing when I was wearing Ravishing Rouge lol. Gotta say so far loving all Lisa Eldridge's recommendations! And the texture of these lipsticks are really good. Very impressed.
4. Evian facial spray
I finished my Avene facial spray a long time ago and I miss my aerosol facial sprays, so I decided to get these =) I actually prefer aerosol sprays than regular spritzers =P
5. Bumble and bumble Super Rich Conditioner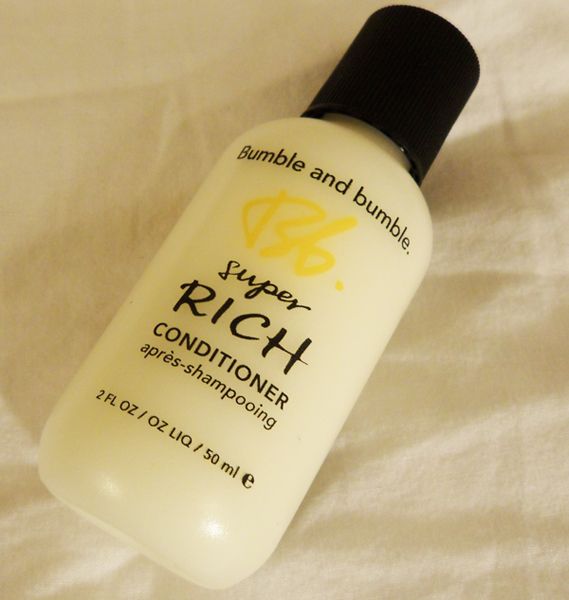 Kind of just picked this up while I was waiting in line in Sephora... I've heard quite a lot about this brand but never tried their products so I thought I'd give it a try. Actually now I think about it... this is expensive for such a small bottle O_O damn impulsive shopping. This better be good. LOL.
*Update: I'm almost done with the bottle. I like it but not enough for me to actually splurge on the full size bottle (really really expensive!) The texture of this conditioner is very silky and I did notice my hair feels very silky when I rinse my hair out. However once my hair is dried and everything my hair doesn't feel any different than if I'd just use any other conditioners.
6. Eyeko Skinny brush mascara and liquid eyeliner travel-sized duo
Heard so much about Eyeko! Didn't know Sephora carries Eyeko. Pretty excited to see how the mascara works out. As for the eyeliner, will use it to line my upper lash line as well XD
Just thought it's pretty cool the size of the products are exactly the same as the picture XD
7. MAC Paint Pot in Soft Ochre, and Matte lipstick in "Russian Red"
I decided to pick up the paint pot since for some reason my bareMineral eyelid primer hasn't been working as well as it used to. Maybe it's because my eyelids are used to it since I'm on my second tube. I had in mind "Soft Ochre," "Barestudy" or "Painterly." I decided on Soft Ochre because it's yellow toned. Painterly leans more pink and flesh toned. And Barestudy is actually shimmery. I thought Soft Ochre would work best with my skin tone although painterly wouldn't be bad either (I didn't want any shimmers in my primer).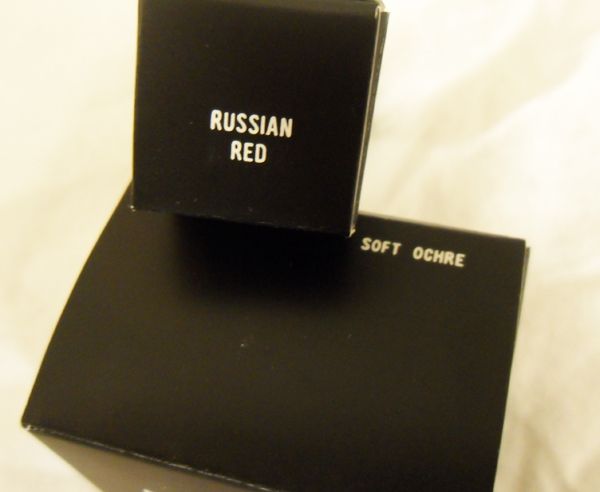 Also picked up another red lipstick in "Russian Red." Again recommended by Lisa Eldridge XD Was gonna pick up Ruby Woo too but it was sold out so I'll just have to order that online (MAC has free shipping with any purchase until the end of December now did you guys know?)
8. Up & Up makeup remover cleansing towelettes
Haha so random. I don't use makeup wipes to take my makeup off cuz I found that really dries my skin out. Bought this mainly for when I'm swatching makeup and stuff.
9. Sonia Kashuk Hidden Agenda Concealer Palette in 07
I was at Target for the longest time debating if I should get this or not lol. You guys all know that I don't really use concealers because I still haven't found a concealer that doesn't settle in my fine lines underneath my eyes and make them look dry and cakey. Well this still really doesn't do it for me for my under-eye... but I gotta say I'm quite impressed with its staying power O_O for cream concealers, the staying power is quite remarkable. I used it around my nose and it actually didn't melt off or slip and slide. So for that I was pretty impressed. And the shades are pretty good. It's really creamy as well (much much creamier than Laura Mercier Secret Camouflage).
10. Lush Bath Bombs and Bath Melts and Aqua Marina cleanser
I forgot what the names are except the yellow round one is something about Honey... LOL. The one that looks like a gift box is supposed to turn your bath water into a deep forest green! How cool is that XD I'm giving this to a friend though cuz she has a freaking jacuzzi in her house and she never uses it. I've tried out some Lush products in the past and honestly wasn't really impressed with any of them. I thought Lush is really overrated... but before I write it off for good I just wanted to try the bath bombs and bath melts XD Really want to enjoy a hot and bubbly bath since I've been sitting and studying so much that my body has been so stiff and aching -_- need to start working out again too that might also help.
Got a sample of Aqua Marina (Seaweed and calamine cleanser for sensitive faces) while I was there. Why not XD
Looks a bit gross lol we'll see how it works.
* Update: . IT's EXTREMELY fragranted, as in after I washed it off I can smell it on my face. But it goes away after I continue with my skincare. The fragrances initially really put me off... I wish it wasn't so fragranted, since
LUSH is supposed to use "fresh, organic fruit and vegetables, the finest essential oils and safe synthetics," I was hoping it would just smell very natural, instead of smelling like artificial fragrance (but then again what did I expect all LUSH products kind of smell like that). Anyway it took me a few days to get past the fragrance, but I do enjoy it =) It doesn't really lather up, but it cleanses well and the oils it contains does make my face soft and supple to touch after. It's also one of the few "moisturizing" cleansers that cleanses well (I generally try to stay away from moisturizing cleansers cuz they tend to not clean as well/hence leading to breakouts, and leave my face feeling like there's something sitting on it...). This cleanses my face well while making my face feel moisturized and soft. So I do recommend this to those who are looking for a moisturizing cleanser! I will consider purchasing the product but I want to go through my current cleansers first XD
That's all folks! Thanks for taking time off your day to stop by my blog =D Now I'm gonna try out that bath bomb XD *excited dance*
Laters ^_^
<3 Frances