Hi guys!
How's everyone doing??? Excited for the holidays?? Lol I'm kind of ambivalent toward Thanksgiving this year since I don't have family here and I will be using my break to catch up with school work... sigh. Not too much to look forward to. Just really want to get through this semester. Anyway! So today I thought I'd share my Sephora haul with you guys! I thought this was the F&F sale but it's actually the VIB sale... I think the actual F&F sale will come later this month??? Not sure.
I really should go on a beauty ban =_= I've been spending way too much than I like. But I can't seem to control my spending nowadays. Because all I ever do is study study study... and when I get bored of studying, I browse the Internet... and shop orz..... I think I need to whip out my determination I used to lose weight and apply it on online shopping. That doesn't seem like a bad idea XD
Oh by the way you might have noticed I took down my header. I got fed up looking at it. Haha. Will need to make a new one soon. Hopefully something that doesn't involve my face XD But I'm no good at graphics design =T We'll see what I come up with. Or I might just leave it like this lol.
Enough with the rambling, let's get started shall we? =)
Hahaha... quite deviant from the shopping list I made for myself a while back. Bought several other things besides the Josie Maran sunscreen and Benefit body balm that I originally planned to get. I actually did purchase the full size SK-II Facial Treatment Essence but I got mine from eBay, along with some Facial Treatment Cream Foundation samples, but I will talk about these in another post. SK-II is just too overpriced in American stores that's why I decided to turn to eBay, instead of getting it from Sephora or Nordstrom. And I also want to mention another item I really wanted to purchase was the Tarte Amazonian Clay blushes... there was this $35, 4 piece value set that contains two mini blushes, one highlight and one bronzer. But I didn't manage to snag it because it was sold out online (I think it's no longer available cuz I couldn't find it anymore, otherwise I'd post a picture) and although it was available in store I didn't have time to physically go shopping... so... that was that -_-a we'll see if I can still find it in store.
Anyway! Let's go through the items one by one =)
1. Benefit Bathina Body Balm
I gotta say... the packaging is SO much cuter in person. I freaking adore it!! Why is it so cute!?!?! lol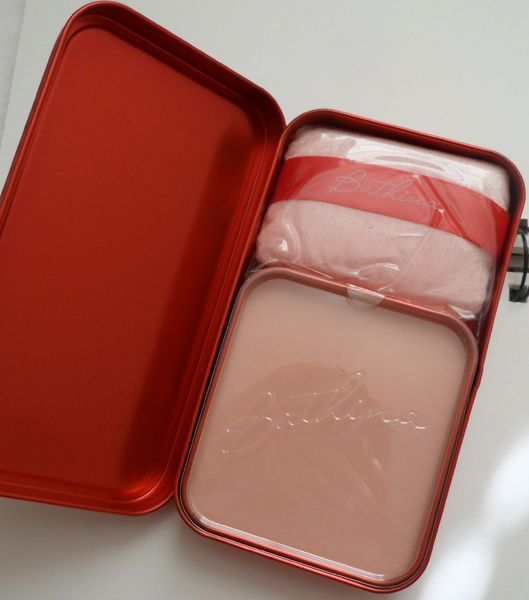 What it looks like on the inside. I haven't tried it yet. But like all other Benefit products (or maybe not all?), it has this pleasant, rosy (?) scent to it. Will do a review once I've used it. Which... might take me a while cuz there's no point using this in the winter XD
2. Josie Maran Argan Daily Moisturizer (sunscreen)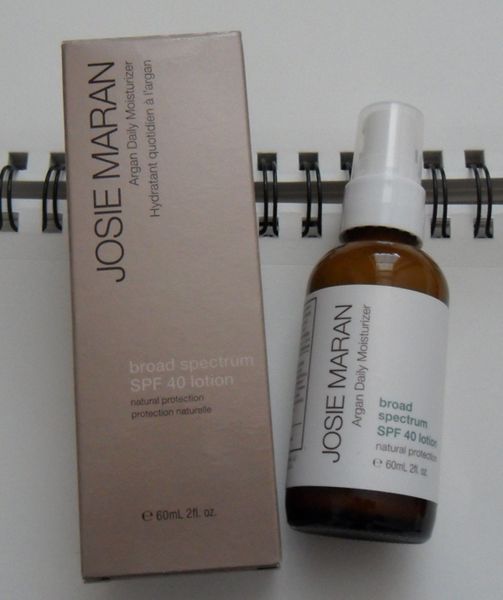 This came in just in time since I ran out of mine XD I have a rather lengthy review on some Josie Maran products including this sunscreen. Please refer
here
if you're interested.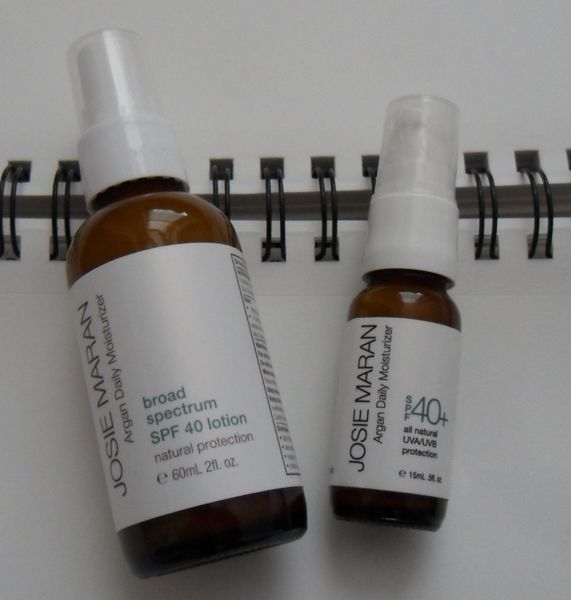 My small bottle in comparison. I actually ended up purchasing the full size bottle because when I actually think about it... the small bottle didn't last me all that long at all. And since we have a few more months to go before summer is here again... I thought I might as well go with the big bottle just to make sure I don't run out.
By the way did you guys notice the new labeling regarding SPF? I noticed almost all of the newer beauty products I own all have appropriate SPF labeling now. I believe FDA's new law requires all sunscreen products (and "sunblock" is no longer a term allowed) to be broad spectrum and contain at least a minimum of SPF 15.
3. NARS lipstick in Honolulu Honey
Another lipstick I purchased because of Jenn from ClothesEncounter >口< But!! I've already decided to return this lipstick
Thought I'd show the excessive packaging of the lipstick... there's a little box within the box to hold the lipstick. Honestly... I thought... what a waste of paper -.-"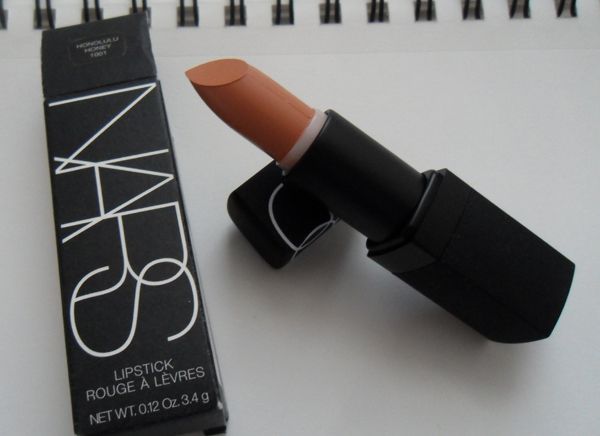 It's a gorgeous nude color, but too close to MAC freckletone lol which I did end up keeping. I mean yes they're slightly different, but seriously close enough that I'm sure no one would be able to tell the difference. Plus MAC is significantly cheaper and I really don't think this particular NARS formula is any more superior. Will return this as soon as I have time to make a trip to the mall.
4. Fresh Umbrian Clay Purifying Treatment Bar
A rather impulsive purchase. Saw this in Raeview's acne-fighting
video
. By the way have you guys seen her new video on Tom Ford's fall 2012 collection
video
???? That review seriously got me really interested in Tom Ford eye shadows O_O but of course I'm not about to spend $75 on an eye shadow quad, at least not in another 3-5 years XD Funny thing is if you really think about it, each eye shadow in that TM quad is about $18.75... and a single MAC eye shadow is $15. MAC is getting so expensive nowadays... =_=
So far... not that impressed. But then again my expectations aren't super high, since I know my pores are smaller and therefore my blackheads are hard to get -_- I can't really say if this treatment bar works any better than my Origins Clear Improvement Active Charcoal Mask. But I will say this is very abrasive and I cannot just rub this against my face. I have to get the products on my fingers first then transfer it to my face. Also I cannot use this on my entire face. The first time I used it I applied it all over my face and my skin freaked out badly. I think it's because it's too drying. So now I only use it on my nose where I have a ton of blackheads, and on the center on my chin where I have a little bit of whiteheads. Still debating if I should continue to try this or return it.
5. bareMinerals Renew & Hydrate Eye Cream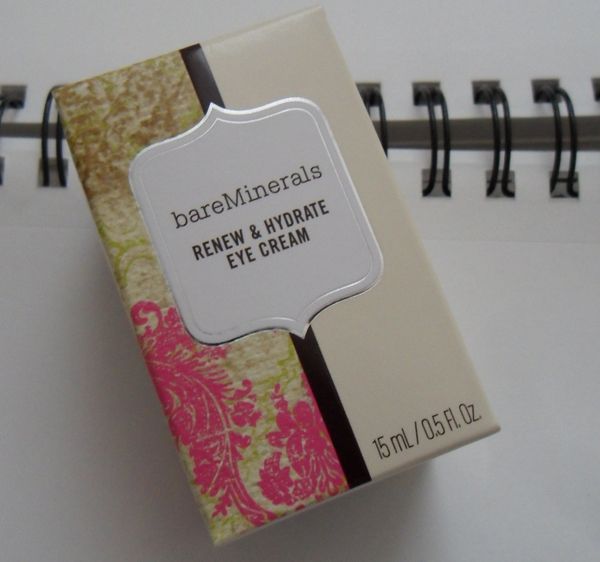 I am currently using the Lancome Genifique Eye concentrate sample (which I received with my $35 or more purchase) and jeune d'age eye creme (simply just trying to use it up.... nothing exciting there). I also have Origins GinZing eye cream but I only use that in the morning to depuff my eyes. I'm already more than half way through the Lancome one (again, didn't really do anything for my undereye fine lines or dark circles... sleep really is the key to dark circles. As for fine lines... have them since a kid... it's genetic) so I thought why not take advantage of the sale and stock up on a few eye creams. I kind of just randomly picked this up, since I like the brand.
6. L'OCCITANE Ultra Rich Eye Balm
Another eye cream. Will be using this one after I'm through with my Lancome one. Honestly I'm not sure why I bought this... cuz I'm not even a fan of L'OCCITANE (don't care for their hand creams). I guess I'm just trying to branch out and try more products XD
The container is pretty nice though. I really want to try the Bobbi Brown eye cream but the price of that is just out of my league.
And... I actually made a second purchase during the sale -__- IT WAS COMPLETELY IMPULSIVE.
Quite honestly I still can't really believe I bought it. In fact, it sat on the top shelf of my desk for 4 days before I finally steeled myself to open it -_-a I couldn't decide if I wanted to keep it or return it. Quite frankly I think my skin is fine the way it is... I just really hate my blackheads. I've always wanted to try Clarisonic but the price tag is too hefty (would NEVER purchase this with full price). But anyway I finally decided to open it last night and charge it. Just gonna see if it helps with my blackheads at all. If not then I will promptly return it (not having high hopes because I feel like blackheads is an age thing as well... I will just have to wait until I'm older when my skin decides it wants to be drier or what XD)
***Update: I've returned my Clarisonic. I decided it was too abrasive for me (for everyday use at least). I know they have "delicate" brush heads available but I didn't want to dish out extra dollars for that. I'm not saying it doesn't work well though; in fact, I was actually quite blown away by the results. I noticed after I used it my pores were gone O_O how did that happen?!?!??! lol. I already don't have big pores to begin with but... for them to disappear after cleansing... MIND-BLOWING. But it was only temporary a few hours later I saw my pores again ahaha. With regards to blackheads... I only used it for a few days but I know it's not gonna eliminate them. It did help just a bit... my blackheads seem a bit smaller and in control, but nothing spectacular there. I guess I could've waited and tried it out for longer, but looking at my calendar I know I won't be able to make another trip to the mall until late December, and I don't want to not be able to return it if I decided it wasn't worth it. But anyway regardless if it works on my blackheads or not, I know this is not a device I can use everyday... the brush head really isn't that soft and it's just too much exfoliating for my very thin and sensitive skin. I can't even use a sponge to wash my face everyday. So in the end I didn't think it's a worthy investment since I wouldn't be able to get as much mileage out of it as I would've hoped.
Oh also, I don't feel any difference using Visionaire. Orz... so disappointed. Not sure what I was expecting but I heard so many good things/raves... so that's that.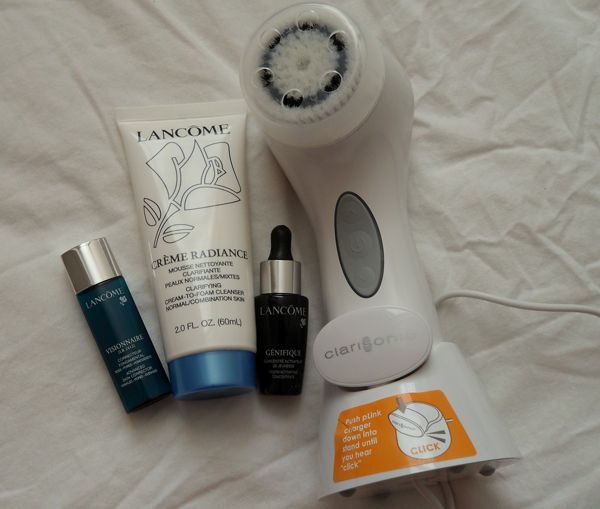 Clarisonic Aria comes with a stand/holder, which I think is super nice. Plus I really wanted to try Visionaire XD The samples are tiny though.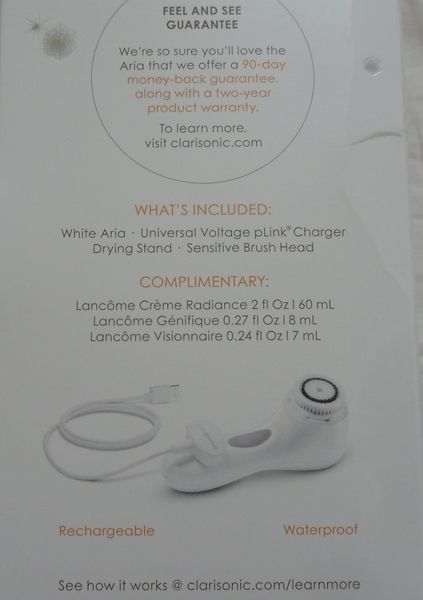 90 day money back?! I wonder if Sephora will accept it after 90 days. I probably should double check with them.
That's all I have to share today! I know that's a lot of stuff... you would think school should help with my reasoning skills but I think it's doing the opposite to me.
Have a great weekend guys!
<3 Frances