Hello hello =)
How's everybody doing?! Hope everyone's enjoying the holidays before school starts again! (for some of you hehe).
So today's post is gonna be a collective haul/review on some products I purchased over this month... mostly from drugstore.
WARNING: NAKED FACE AHEAD.
LOL. I was just out of shower and letting my hair dry and just decided I wanted to do this post... too lazy to wait till another time. So... excuse my naked face! =P
1. St. Ives Naturally Clear Green Tea Scrub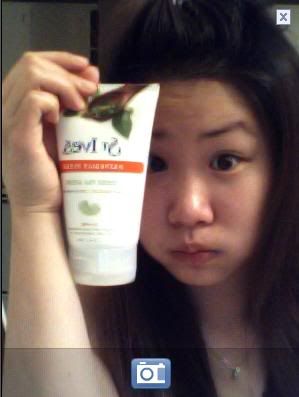 After hearing many wonderful things abt St. Ives facial scrubs I decided to give it a go =)
And I really do like this stuff =) it has the weirdest consistency/formula ever... I don't think I've ever used a scrub like this.
It is very gentle, yet grainy enough to make a difference
. Some exfoliaters are either too gentle that you can hardly feel anything, or with beads that are too rough that you have to use very light pressure. But this scrub is great =) Another thing I really like about this exfoliater is that the grains are very consistent/saturated throughout, unlike most exfoliaters have somewhat sparsed beads (I guess it depends on the exfoliater-- cuz this exfoliater is gentle enough to afford to have that many grains). Also, this is more like a exfoliating cleanser cuz it foams and leaves your face feeling very clean =) def. recommend it! Plus it smells so good! I like look forward to exfoliating now heehee.
ps. this thing contains salicylic acid... good for acne!
2. Organix nourishing coconut mile shampoo/conditioner
I was attracted to it b/c it states its products are organic... big disappointment to me. The shampoo really dries out my hair, and the conditioner is nowhere near moisturizing enough! My hair became horrible in the last week that I was using it.
Stay away from this!
3. Aussie 3 minute miracle in "sydney smooth" and "moist"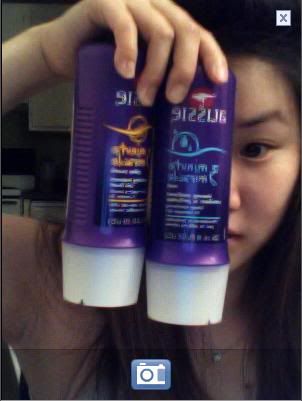 The blue one (which smells like coconut :D) was the one I was using before I switched to Organix. I LOOOVE this stuff! It does miracle to my hair... like seriously. I only decided to use something new b/c I didn't want my hair to grow dependent on this product... but after using Organix I had returned to use this to save my hair LOL.
I always thought Aussie's stuff is just decent, not particulalry outstanding but these.... are just freaking AMAZING. LOVE LOVE LOVE
. Now the only thing is... I HATE the scent of the "sydney smooth", =___= it reminds me of cough syrup/pesticide -____- (those pesticide spray cans we used to have at home... NOT appealing at all). The "moist" one on the other hand smells amazing =) I am alternating between the two (:
My favorite conditioner ever
! (beats even some of the salon brands I've tried...). When I use it I soak my hair very thoroughly in it and wait for 3 min (well of course I didn't time it but I'd wash my body my face exfoliate blah blah blah), so I run through these babies like crazyy!!
4. CHI Keratin Mist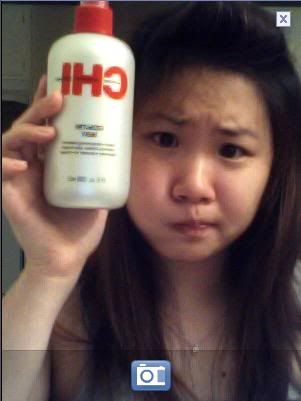 So I got this at Nordstrom Rack for around 10 bucks and used it for a few days and could
feel absolutely no difference
in my hair... I returned it lol. When you first put it in your hair it does feel softer, but that's only because your hair is wet/moisturized lol it doesn't do anything beyond that (not that I could tell anyway...)
5. Neutrogena oil-free moisturizer for combination skin.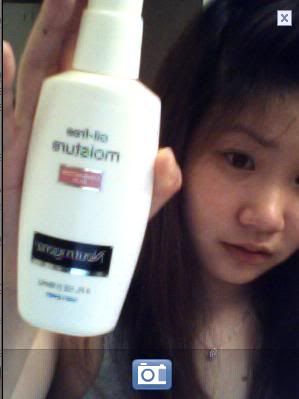 This product claims to moisturize dry areas while controling the oily areas of your skin, but I can't feel a difference lol. my oily nose remains super oily lol. I don't really believe it when a products claims to do two opposite things in one... lol.
But I don't mind it I guess?? Like I'm not crazy about it but I don't dislike it so I guess it's okay. But I've been mixing it with my Shiseido moisturizer and it works pretty good (:
6. L'Oreal Go 365 Clean Deep Exfoliating Scrub
I have heard many good reviews about this exfoliater so I wanted to give it a try =) I wanted to get it in the pink bottle but everywhere I went they were out of stock =( nevertheless I still really enjoy this scent :P (apricot)
This exfoliater is also like St. Ives more like a exfoliating cleaner cuz it foams as well :)
I actually prefer St. Ives scrub.
I find the beads in this L'Oreal scrub a bit harsh/rough for my skin, and that is only using my fingers. The rubber thingy is soft but combined with the scrub, it's just too much for my skin. I had to use very very gentle pressure with this scrub. I like it, but not as much as the St. Ives, and between the two I'd recommend St. Ives =)
So that's all! From all the products I talked about... I definitely recommend the Aussie 3 min deep conditioner and St. Ives scrub =)
Thanks for reading <3
PS: I have to say the webcam didn't do my dark circles justice XDD
<3 Frances