Hi hi =D
It's been so long... tooooooooooooooooooooooooooooooooooooooo long since I did my smokey eye series!! (see how long that is? ... okay that was a bad joke pardon moi -__-|||)
Yes, I'm persisting on this project XD
I'm very excited about this look, cuz it's the first time I tried out my new MAC bronze eye shadow, and I am IN LOVE with it =)
Also I wanted to thank everyone who found my iQQU review helpful... and to the anonymous reader who requested Hakuhodo brush review, yes I will be working on it =) And special tks to Libby for calling me queen of smokey eye XD and tks Bunny for seconding that XDD I'm blushing...... -/////////////-
Okay okay now onward to this look :D
Items used:
1. MAC MSF-- for highlight
2. Stila Covertible Color in Marigold-- for both blush and contour
3. Anastasia Brow Powder in Medium Ash
4. MAC "Bronze" eye shadow
5. Urban Decay NAKED Palette (review coming up!)
6. Majolica Majorca Lash Expander Frame Plus Mascara
7. Dior Maximizer (review coming up also!)
8. MAC Eye Khol in Fascinating
9. Urban Decay 24/7 Eye Pencil (comes with the NAKED Palette)
"Bronze" close-up... it looks kind of gold in the pan but when applied on skin it looks a bit darker and is like the perfect bronze that I've been looking for :D love love love.
I used "Darkhorse" and "Creep" from the NAKED palette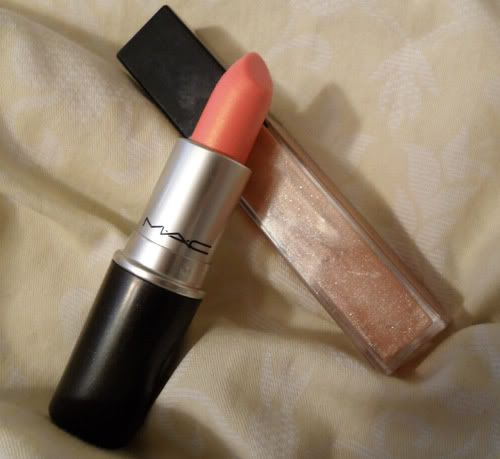 I chose "Victorian" (frost finish) from MAC and "Embrace" lip gloss from Victoria's Secret
Usually I'd wear nude lips with smokey eyes but I felt like having a "loud mouth" today XD
1. Apply "Bronze" in crease area, bringing up past crease by a little
2. Apply "Bronze" all along lower lash line. Apply "Darkhorse" on the outer corner on upper lid, and bring it down to the lower lash line, only applying on the outer 1/3
PS: don't mind my white lashes... I prime my lashes before I do everything now :D
3. Use very little amount of "Creep" to deepen the outer V's
4. Line upper water line
5. I did my eyeliner a bit differently today. In stead of cat-eye, I sort of drew the shape of < / >. And because of the intense black liner, I used the white eyeliner ("Fascinating") to very lightly rim my lower water line to bring in some light. Use a very light hand-- you shouldn't even be able to tell that you applied white eyeliner.

6. Mascara of course :D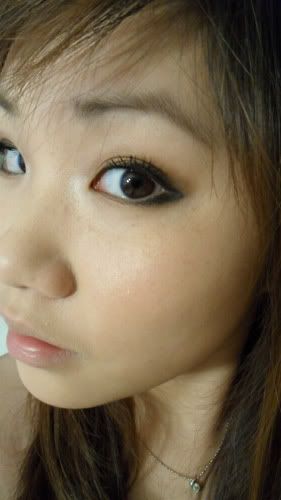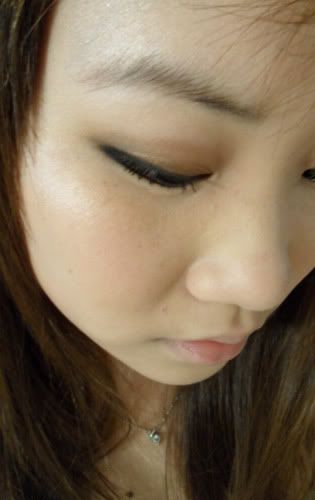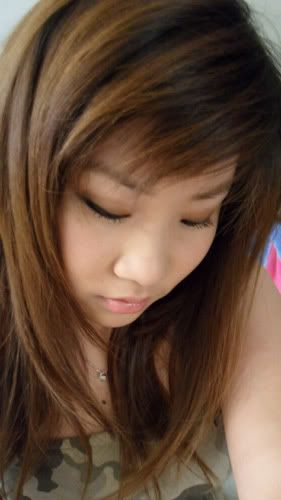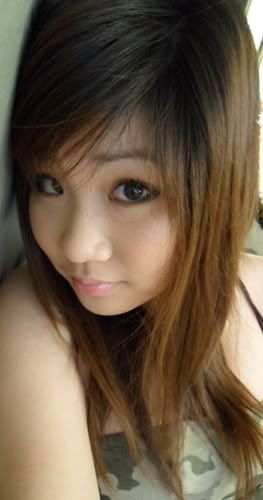 That's it =) Next smokey eye would be green I think? =D
Thanks for stopping by <3 And have a great day =)
<3 Frances