Hello hello =)
Thanks for everyone who liked the last smokey eye =) <3 some of you said you like it because it's warm and not intimidating... today... I'm switching to the intimidating side XD you're warned :P
And today I'm using one of my fav eye shadows... also my very very first eye shadow in my life XD Lancome's "Dazzling Steel" :) I remember buying this eye shadow along with some eyeliner pencil and mascara at Lancome with my mom about 5 years ago =) first time ever makeup shopping haha. I remember looking for this kind of shade because I saw Rainie Yang wearing some color of this sort in her drama "Devil Beside You" so that was my very first makeup inspiration :P
Items used: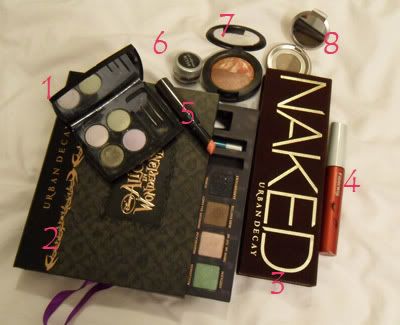 1. Lancome Color Design "Dazzling Steel" (#502) eye shadow
2. Urban Decay Alice In Wonderland Palette "Absolem" eye shadow
3. Urban Decay NAKED Palette "Gunmetal" and "Creep" eye shadow
4. Fiberwig Mascara
5. MAC Slimshine Lipstick in "funshine"
6. Stila Smudgepot eyeliner in "black"
7. MAC "Light Over Dark" blush (I used the "light" one)
8. Anastasia brow powder in "Medium Ash"
Close-up on eye shadows: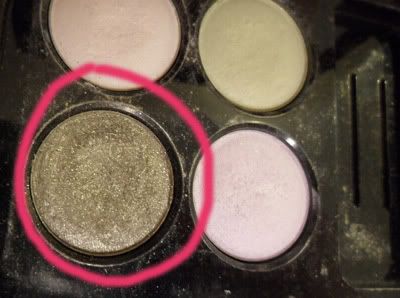 If you decided you like this color and decided you want to get it, I have to warn you
this eye shadow falls out like crazy. So I suggest doing foundation/powder AFTER eye makeup
, which is what I did :)
This eye shadow is totally optional. I will explain in the tutorial :)
1. Apply "Dazzling Steel" over lid, packing the color intensely under the fold, and bring the shadow a little past the fold. Bring the shadow up in a round shape on the outer corner, so it should be very visible above the fold.
By the way I already applied eyeliner on upper waterline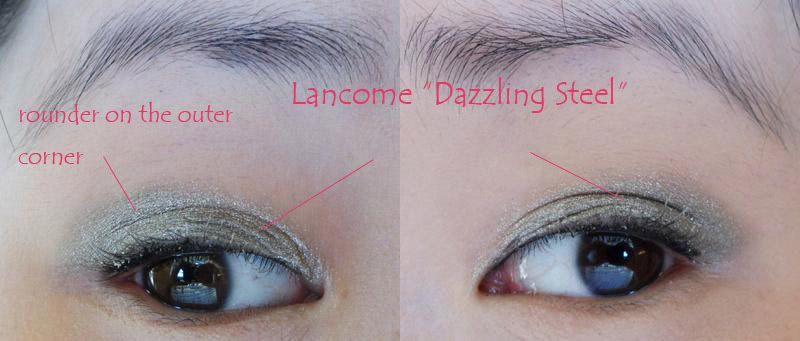 2. Apply "Gunmetal" on outer corner, and bring it on the lower lash line as well
3. This step is optional. If you don't like it too green, you can leave out this step. I used my ring finger to take a bit of "Absolem" eye shadow, and gently pat it on the center of the lid to bring a pop of green to the eye
You don't need much at all, this is all I have each time I dab my finger into the eye shadow. The key is to build up the green to the intensity you like, and I didn't use much at all (remember to use clean finger before you dip it in!! lol)
4. Apply "Creep" the outer corner to intensify the look. Bring a little down to the outer 1/3 of lower lash line. And you can see the pop of green by adding "Absolem" in the center :) I usually just leave out step 3 though hahaha.
5. Line your eyes.
I like to make my lower liner a lot thicker than I usually do when I wear light, shimmery shadows to balance it
. I don't know, to me it's like when wearing clothes, if you wear light top, you should wear deep colors on the bottom to balance the look if you know what I mean? XD
6. Apply mascara and you're done with eyes :D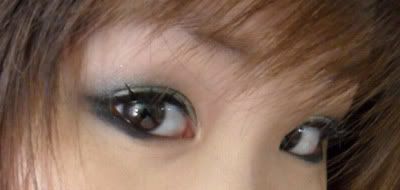 For the rest of my face,
since wearing green eye shadow can really wash you out, I wear a very warm blush
on my cheeks (MAC "Light Over Dark") and I decided to wear peachy lips this time instead of nude.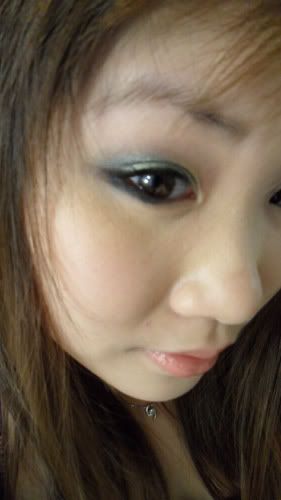 the eye shadow is super shimmery XD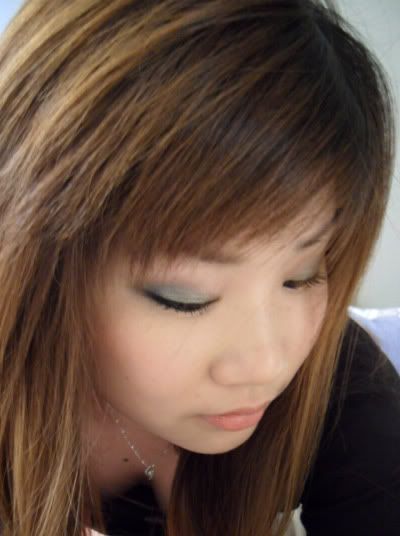 That's all! I really like green shadows I dunno why... but I hope you guys enjoyed it =D
<3 Frances