*****************UPDATED ON 10/12/2010****************
So a while back shortly after I posted my review on iQQU, I received an e-mail from iQQU director, Craig:
-----------------------------------------------------------------------------------------------------
"Dear Frances,
My name is Craig, I am a director at iQQU International and I have recently read your review in regards to our products.
First of all Frances, I would like to express our sincere appreciation for your support for iQQU. Secondly, I am very concerned that you have received our white blush brush which the handle had fall off. Frances, we sincerely apologize for defect of our brush. We have instructed our QC department and to ensure that this will never happen again. We have no excuses on our part except that we are not perfect, but we will do our very best to ensure that we will produce quality products.
Frances, I would like to send you a new iQQU Blush Brush. It"s not right that you had to glue the handle back on. We hope you accept our gesture. In the meantime, we hope that you will continue to support iQQU and should any of our products do not meet our expectations, please do let us know.
Again, thank you for taking for your support and especially to take the time to review our products.
With best regards,
Craig Chau
Director
iQQU International"
-----------------------------------------------------------------------------------------------------
Although I was sure if I contacted Michelle regarding the issue she would do something about it, I didn't because I was able to glue the handle back on, and after that the brush has been in working order, so I didn't really feel the need to contact her (to be honest it didn't really bother me... I don't know why lol!) But anyways I was pleasantly surprised when I got this e-mail from iQQU.
So I'd been expecting to receive a new blush brush. And today I received a package from iQQU. I remember walking back to my apartment thinking to myself... why is it so heavy? it's just a blush brush?
I'll tell you why it's heavier than I expected =)
Dah la la... ohhh the package!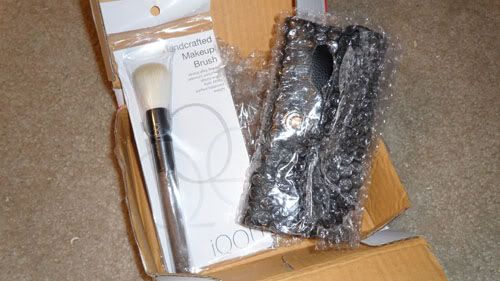 The blush brush... and .......!!!!!!!!!!!!!!!!!!!!!! For real!?!?!?!?!?!?!?!?!!!!
(In my excitement and haste I totally ripped the wrapping XD totally tried to put the set back to take the pic ahahahahhaha)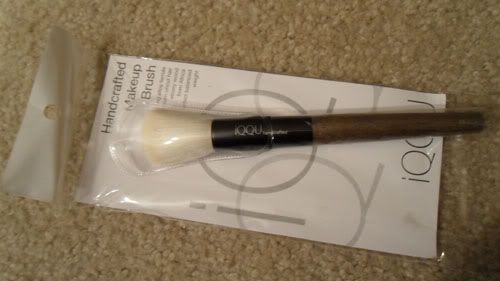 The new blush brush... I can totally tell this handle is a lot sturdier than my last one haha
The kind note from Craig =)
And the generous gift >_< the travel brush set!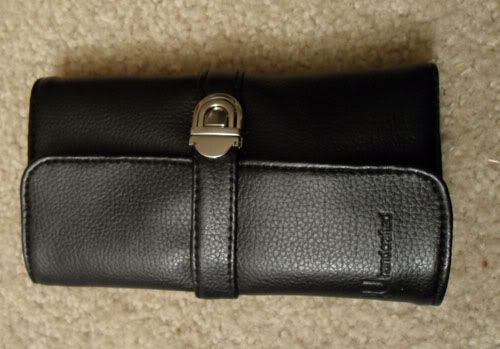 I'm not gonna go into detail... cuz I will be testing it out and do an individual review =)
I'm so psyched to try it out!!!!!!!!!!!!!!!
So 5 stars for iQQU's excellent and proactive customer service!! I'm still astonished that they actually send me this gift set.
I noticed that I'm not the only person who had a problem with the white blush brush falling apart. If that happened to you, you shouldn't hesitate to contact iQQU, cuz they will take care of you =)
************BACK TO ORIGINAL ARTICLE***************
Hello hello =)
So I got some IQQU products a while back, so this post is gonna be my thoughts on these products :)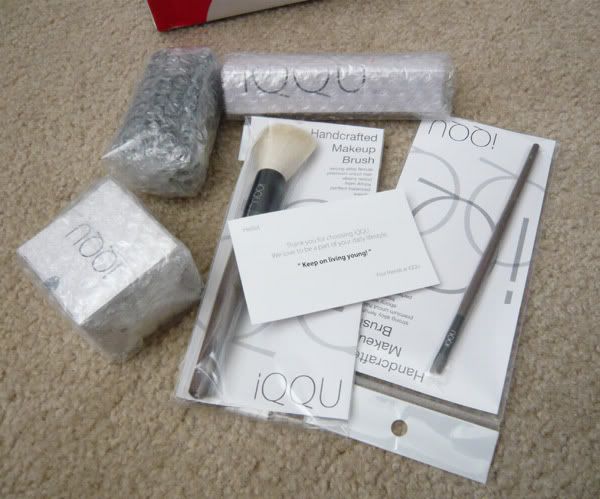 For those who don't know,
IQQU
is the makeup line created by
Michelle Phan
, the most celebrated beauty guru today :)
But first off I wanna say, although I am a fan of Michelle Phan, my review is 100% honest opinion :) cuz I will be posting my review on her website too, and I believe she'd like to know how we consumers like/don't like her products so she can improve :)
I also want to mention that,
the prices on IQQU products fluctuate a lot
, so the prices I paid for are not the prices currently listed on the website.
So with that all being said, here we go =)
Little overview for the sunscreen and scrub:
I love that the products have expiration date printed on the product containers themselves not just the package boxes, cuz I usually throw the boxes away and it is most helpful to have that information on the container :)
1. Advance Sunscreen SPF50
Price: $19.99 (although currently $23.99)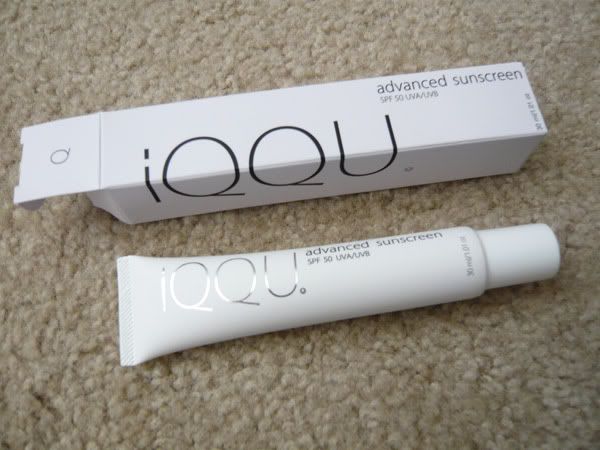 I thought the packaging is TO DIE FOR. Never seen a sunscreen tube cuter than this ><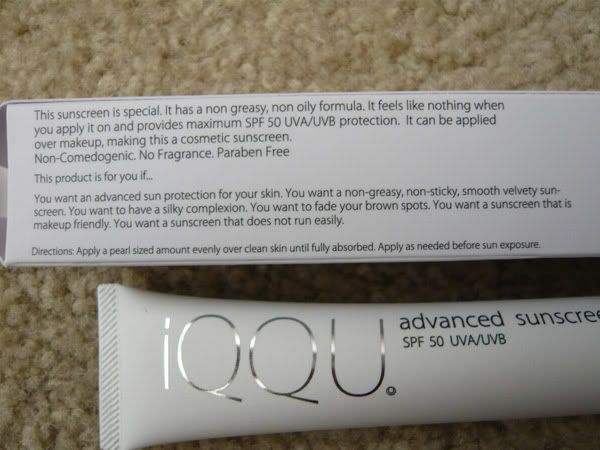 Hopefully you guys and read the ingredients and description :)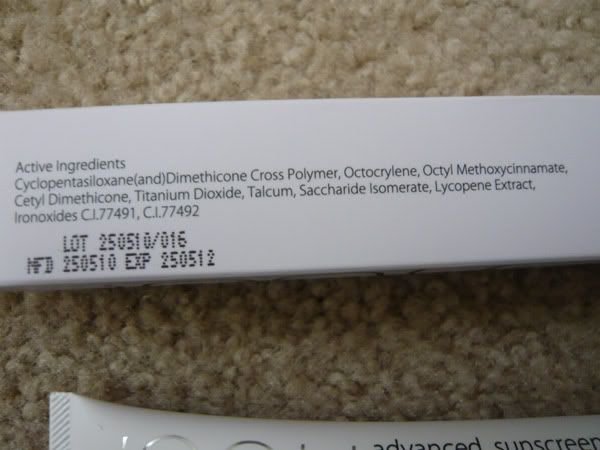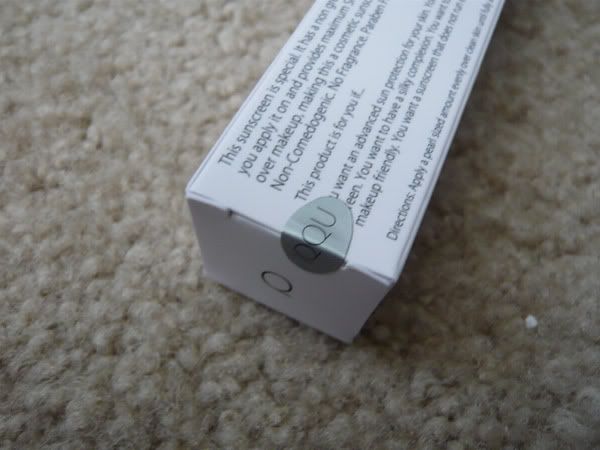 I just thought the little IQQU sticker is super adorable lol!
Now onto texture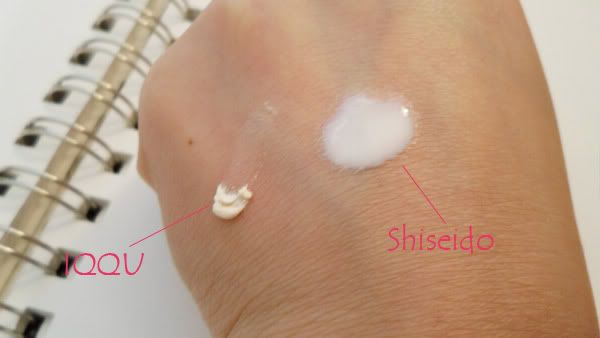 Can't really explain what the texture is like... it is dry but also creamy... Right side is my Shiseido face and body sunscreen SPF60.
After blending...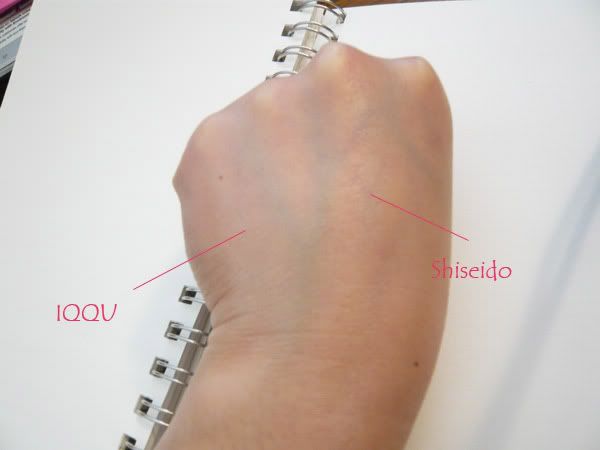 You can see IQQU brightens up your skin tone (it has a pink tint to it). And I have to say it is the mattest sunscreen I've ever used.
My thoughts:
- I love that it's
matte
- It breaks me out :( although my Shiseido one breaks me out as well so *shrugs* I think it's just me
-
Is it makeup friendly? ... Ummm... I'm not sure about this... I mean it didn't really mess up my foundation, but it definitely moved my foundation. Also my blush most definitely disappeared after rubbing this sunscreen on.
- Although the sunscreen brightens up your complexion, it doesn't really correct your skin discoloration and stuff. Just want to throw that out there in case my pic looks misleading lol!
So if you're thinking about buying this sunscreen b/c it's supposedly makeup friendly... well it didn't work for me, I can only say that much lol.
2. Jasmine Rice Scrub
Price: $12.00 (currently $15.00)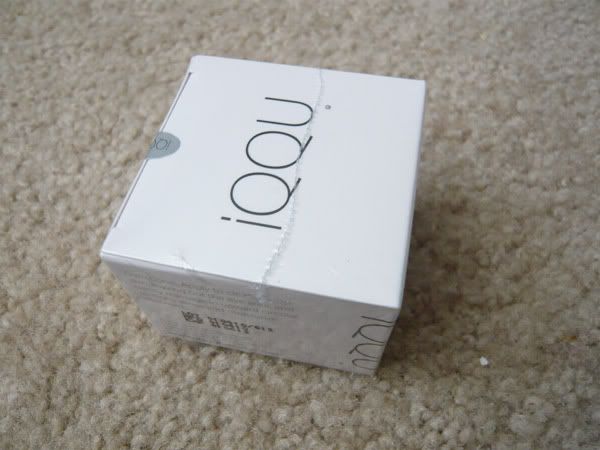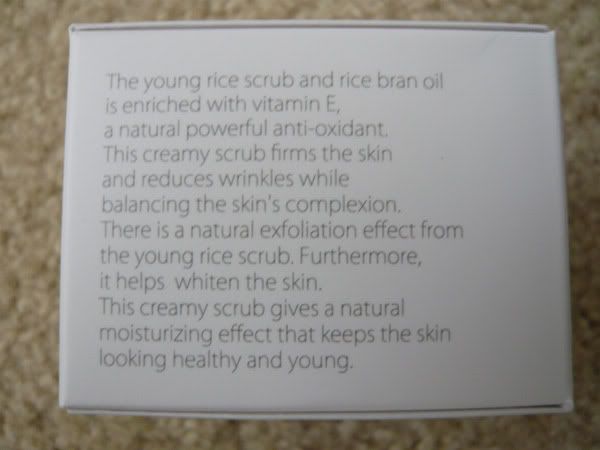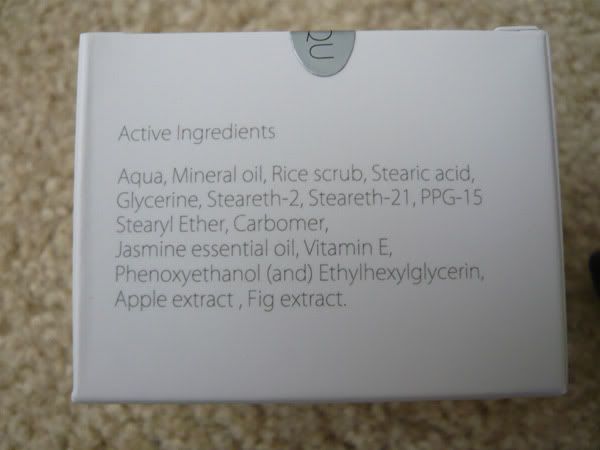 the packaging is meh... looks a bit cheap but I don't really mind it lol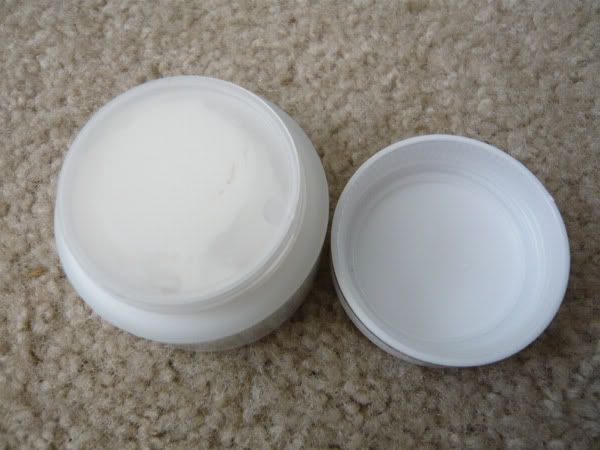 comes with a plastic lid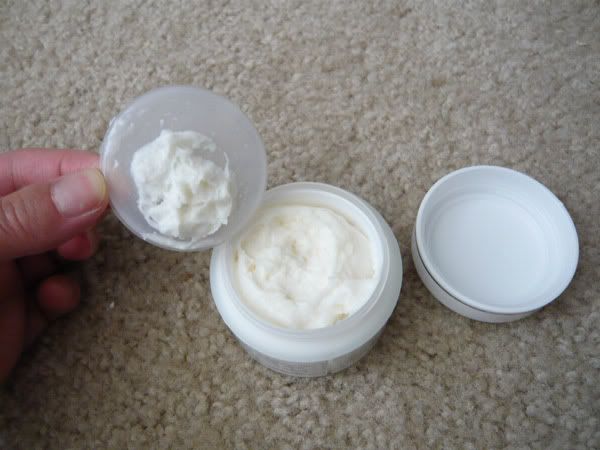 My thoughts:
- OMG it smells amazing... just like rice pudding... makes me wanna eat it ><
- the rice granules are very tiny and not as rough as I thought... but still a bit rough for me. I have to use very light pressure
-
It leaves your skin feeling like... not moisturized, but a layer of something on your skin. Not uncomfortable or gross, kind of how you'd feel if you wear homemade face masks that contains olive oil, the same feeling you get after rinsing the mask off but without washing your face with cleanser
- I like my St. Ives better :P I'd say this is good to use if you haven't exfoliated for a long time lol definitely won't use it every other day
- Updated: This scrub is definitely way too harsh for my face, so I used it as body scrub... LOL
Now onto the brushes...
Overview:
-First off I want to say the "brush hairs" did exceed my expectations. I mean I wasn't expecting them to be bad but I for sure wasn't expecting them to be as good/soft as my Hakuhodo brushes (except probably the eyeliner brush) (although I'm not saying all my Hakuhodo brushes are all good... I did find some fault with some of them. Maybe I will do a review?)
-Her brushes are on the denser side.
-
I would say her brushes are only for ppl who are committed to take very good care of makeup brushes, for that the brush handles are made of ebony wood, which she warned on the packaging that must avoid water and stay dry. I admit the ebony wood look amazing on my vanity, but personally not a fan of wood handle. Although they are more environmental friendly too, I feel like the handles will crack over time, just like my other brushes that have wood handle. Personally I wipe my brushes dry after every use so it's no big deal for me, but if you don't like the hassle of taking care of your brushes, I'd say avoid them.
3. White Blush Brush
Price: $14.99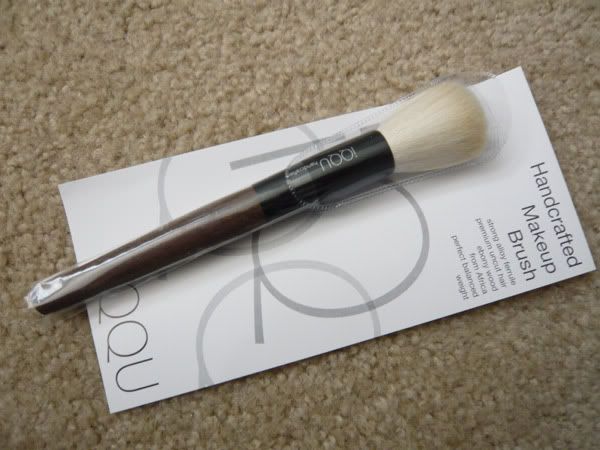 - this blush brush picks up a lot of product so I'd say be careful when you load it. This brush is denser than it appears lol
- this brush sheds like CRAZY!!!!! which sucks when trying to use cream products cuz the hairs would stick to my face AND my cream products :(
- after 3 uses I noticed the the glue holding the ferrule and the handle came loose... and on the 4th use my brush actually came apart T口T I swear I didn't do anything I'm not supposed to with the brush!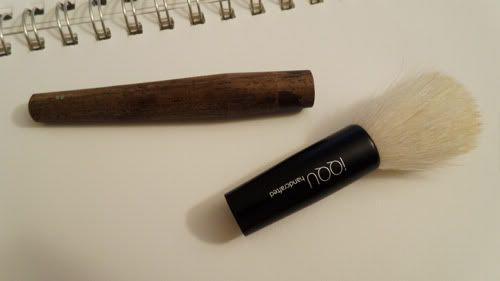 Good news is I threw some super glue on them so they're one piece now *wipes away sweat*
I'd say if I'm paying $15 for a brush, this shouldn't happen at all...
4. Red Kabuki
Price: $19.99 (currently $23.99)
Isn't it adorable >w<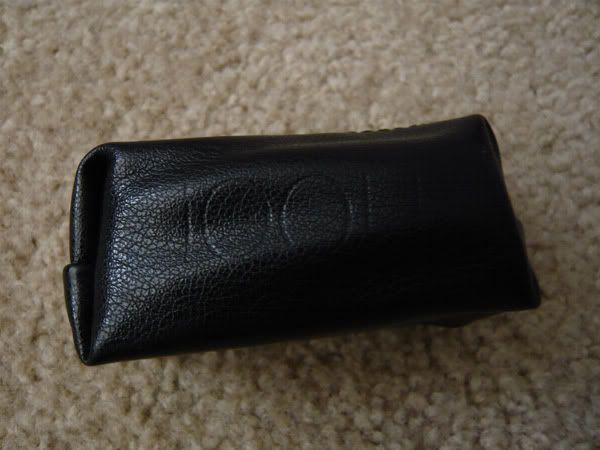 The leather pouch has "IQQU" embossed on it... which I think is cute :)
- The brush did bleed red a bit the first few times washing it, but it wasn't bad at all.
- It is a good brush :)
it is dense, but it's also weird cuz this brush doesn't pick up as much powder as my other less dense powder brush. It works fine if you're just dusting a thin layer of powder over your face, but if you want to buff foundation powder on... I think this brush doesn't work that well in that respect.
5. Eyeliner
Price: $8.00 (currently $10)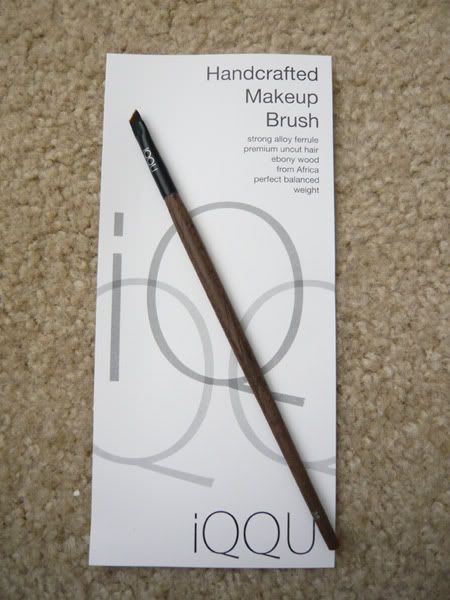 - It is made of nylon hair, which is soft enough that it doesn't irritate/scratch my eyes whatsoever
- However, when I compared the softness of the brush to my Hakuhodo... Hakuhodo wins... Not only my Hakuhodo brush does not irritate my eyes, it actually feels very comfortable and nice when I apply my eyeliner... that's how good my Hakuhodo eyeliner brush is.
- The handle is longer than I'd usually like but it actually is pretty well-balanced and doesn't impede my application.
- The handle of this brush bleeds a little orange... I was wiping it dry on my towel and now my towel has streaks of orange. So... use an unwanted towel for these brushes XD
- I want to be fair and say it is a good brush, however it is not my go-to brush. Personally I prefer smaller, narrower brush for eyeliner because my eyes are small. The size of this brush is typical of any angle brush.
Here is how it compares to my Hakuhodo brush: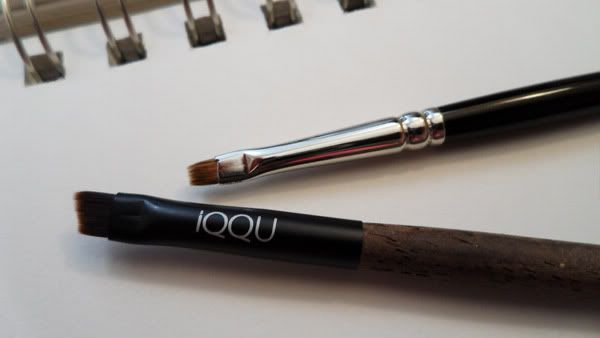 Lastly...
Shipping was $8
, which in my opinion is a little much... (well I'd say free shipping should be offered for any purchase over $50... I'm pampered by Sephora :P)
And I did wait for solid 2 weeks
. To pay that much for shipping I'd expect faster shipping.
I think that's all I have to say for now :) Hopefully this review is helpful for some of you!
<3 Frances