I feel like I've tried wayyyy too many of the foundations out there. TOO MANY.
You all know I'm a foundation junkie and I am obsessed with finding the perfect foundation for me. lol!
Just look at all the samplings I'm going through now: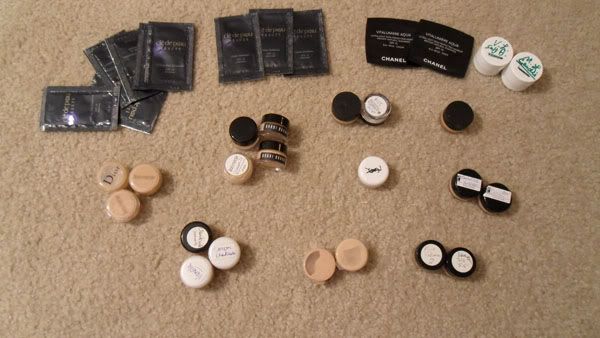 It's kind of ridiculous, I know, lol!
And this doesn't even include all the foundations I've tried/ owned...
I am going to try to list ALL the foundations I have ever tried/owned, and I'm going down alphabetical order so I can keep track XD the list is super long you're warned! Are you ready?! XD
= = = = = = = = = = = = = = = = = = = = = = = = = = = = = = = = = = = = = = = = = = = = = = = = = = =
bareMinerals Matte Powder Foundation (which I do really enjoy cuz it's very quick and natural)
Bobbi Brown Natural Finish Long Lasting Foundation
(Want to try BB Skin Foundation as well lol)
Chanel Teint Innocence compact foundation (looks dry and powdery on me)
Chanel Mat Lumiere
Chanel Vitalumiere
Chanel Lumiere Aqua
Chantecaille Future Skin Gel Foundation (looks cakey at the end of the day and slips easily)
Clarins Instant Smooth Mousse Foundation
Cle de peau BEAUTE cream foundation (good but not outstanding and wayy over-priced)
Cle de peau BEAUTE cream compact foundation (good also over-priced)
Cle de peau BEAUTE refining fluid foundation (bad cuz it's ultra sheer... almost no coverage and horrible staying power)
Dior Capture Totale High Definition Serum Foundation (love the initial finish but hate it at the end of the day- cakey and dry and powdery... looks gross at the end of the day)
Dior Hydra Life Tinted Moisturizer
Estee Lauder Double Wear Foundation
Estee Lauder Equalizer Foundation
(her foundation has a lot of orange/salmon in it...)
Givenchy Photo'Perfexion Fluid Foundation (they do not have my shade... dammit)
Giorgio Armani Luminous Silk Foundation (it's good but I really think it's overrated)
Giorgio Armani Face Fabric Foundation
Lancome Teint Idole Fresh Wear (does NOT last 18 hours and looks cakey after 6 hours)
(However I desperately want to try Maqui Miracle Natural Brightening Creator Compact Foundation that is only available in Asia!)
Laura Mercier Silk Cream Foundation
MAC Pro Longwear Foundation (sooo heavy! looks kind of cakey on me)
MAC Studio Sculpt Foundation
MAKE UP FOR EVER HD Foundation (too heavy as well)
(I tried Mat Velvet at store, forgot why I was unimpressed? On my next to-try list lol)
NARS Sheer Glow (this actually reminds me of Givenchy!)
Shiseido Dual Balancing Foundation (dual balancing my butt lol XD)
Shu Uemura Face Architect Smoothing Fluid Foundation (looks a bit dry and powdery on me)
YSL Teint Radiance
YSL Teint Resist
= = = = = = = = = = = = = = = = = = = = = = = = = = = = = = = = = = = = = = = = = = = = = = = = = = =
See I told you the list is super long XD Other suggestions anyone? XD
Anyway, I have loads of foundation reviews/ product demos coming up! You guys will probably be watching me apply foundation for the next month XD
<3 Frances