Hello! So this is sort of a review thing for this product-- Creamy Molding Wax by S Factor.
I got it on Amazon.com for around $17, but I know it usually retails for $27 at salons.
As you can see it doesn't seem like a lot of products for $27, but the product is very dense so I've been using it for a while and I still have a lot left.
I'd say this is the best wax I've used so far... (but then again I have NOT used many at all!!!)
I've used wax from
Redken
(ugh double thumb down-- super sticky and smells horrible)
Sebastian Craft Clay
(too sticky and really weighs me hair down, and smells just like clay) and
Mod's Hair Clay
(smells good but also sticky and heavy)
I'd say this is by far the most
light-weighted
texturizing product I've used, so it doesn't weigh my hair down as much, and it also gives really nice and natural texture :) But what I also really like about this stuff is that even if my hair gets flat after a while, I can just stick my hands in my hair and ruffle it up a little and it'd have the initial effect as when you first put the product on (the other products I've mentioned failed to create the same effect after you put them on). So I really like that. It's also the most
un-sticky
product I've used compared to the others. And another very important thing-- it smells so wonderful!!! It actually smells
like strawberries
>w< I've come to care a lot about the smell of the product I put in my hair (even for wax/clay) because I'd feel nasty when the wind wafted the clay smell toward my face... EW. So yep =)
I'm very inexperienced when it comes to hair products so you might want to check out other reviews =) just being honest here. But overall I do enjoy this product! :)
Any good hair products you guys like? :)
<3 Frances
---------------------------------------------------------------------------------------------------------------------------------
A couple of things I forgot to mention...
- although it's a wax, but really the texture is more like clay. And it is very creamy like stated :)
- I forgot to mention the holding power-- I usually only use it to get texture, but I used it to hold my curls today and I'd say they held up pretty good :)
this was taken around 11am. lol look so bloated. oh well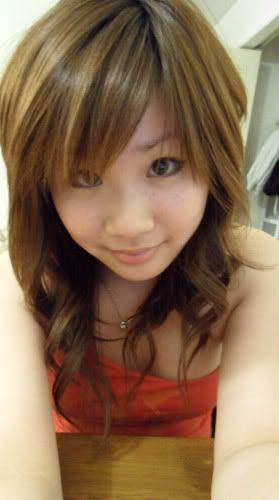 around 5:30pm. Btw I did ruffle it up a little before I took the pic (my hair did get flatter over the day lol can't fight gravity) but see what I mean? The hair still looks good, and compared to other products I've used this product doesn't make your hair stick/clump together so you can't ruffle it up. It doesn't make my hair look sticky/gross :)
not much difference yeah? But I did use some heat protectant prior to styling my hair so that might have helped holding the curls (my hair is pretty easy to style and usually holds up pretty well).
Okay that's officially it :P