Hello dear bloggies!
How's everyone?! I hope everyone is doing well, as well as your family and friends :)
I just want to quickly share my haul from Dolly Wink and Candy Doll with you all-- I've been so busy that I haven't really got a chance to test out these products... but here they are!
From Candy Doll:
1. Lipstick in Apricot Biege
2. Highlight powder in Cream Biege
3. Highlight powder in Marshmallow Purple (the website I purchased from said these are blushes =_____= totally screwed me up. I wouldn't have gotten these if I knew they're just highlighters)
4. Lip Concealer
5. Mineral Powder
From Dolly Wink (I'd been lusting after these FOREVER! I purchased them as soon as they were available online lol)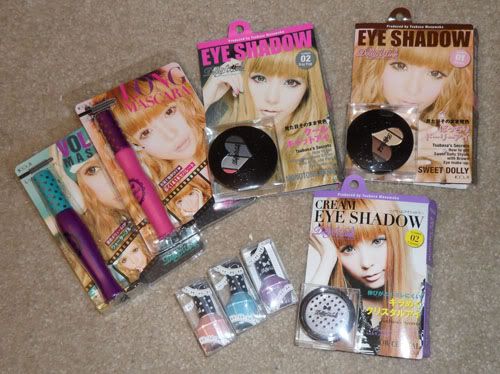 1. Volume Mascara
2. Long Mascara
3. Eye Shadow #2 (Monotone Mode)
4. Eye Shadow #1 (Sweet Dolly)
5. Cream Eye Shadow in Rainbow Crystal
6. Nail polishes in #3, #7, #8
It will probably take me a really long time for me to get through all this... hahaha. I think I'm officially done with buying makeup for a long time (although I always say that.... 囧)
That's all I have for you guys! Hope you all are doing great :)
<3 Frances