Hi hi!
So lately I've been obsessing (just a little XD) finding a good
facial primer that controls oil AND doesn't break me out
! I've got samples and tried out quite a few, and since I'm unimpressed by all these primers, I don't have a whole lot to say, so I'm just gonna combine them all into one review! My "meh" facial primers lol!
Here we go!
*** When I say oil control doesn't stand out, I mean I feel like I get just as oily as applying foundation without primer.
Tarina Tarantino Pearl Glow Primer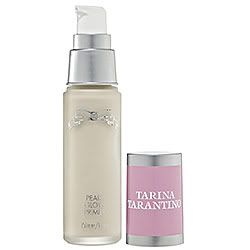 - Like TiffanyD so rightfully said-- smells like boiled peanut?!
- I'm disappointed since TiffanyD said she has very oily skin and she loves this primer so I thought this primer would give some degree of oil control... nope! doesn't feel any different with or without this primer. Please note I'm by no means dissing the guru... I'm merely pointing out that this product didn't work for me
- Honestly I think the pearly glow cannot be seen after I put my foundation on... and I didn't notice my foundation particularly more glowy after using this primer.
- FLAKES too much! Even if I wait for good 5 minutes for my moisturizer to set, this primer still flakes!
- Besides the pretty glow (that is no longer visible after applying foundation lol!), oil control doesn't stand out, and didn't particularly smooth my face out
Laura Mercier Foundation Primer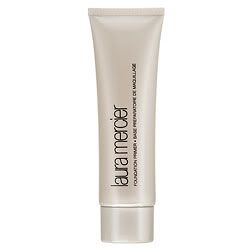 - oil control didn't stand out
- leaves skin feeling smoother
- light and slightly milky consistency
- has a slight sour smell?!?!?!?!?!?!!?
Makeup Forever HD High Definition Microperfecting Primer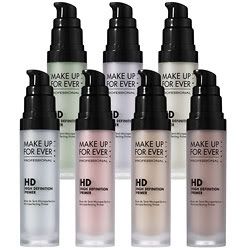 - oil control didn't stand out
- leaves skin feeling smoother
- very light and watery consistency
Victoria's Secret Pro Airbrush Fx Face Primer SPF20
- oil control didn't stand out
- leaves skin feeling smoother
- consistency reminds me of
Bare Escenuals Prime Time
(except Prime Time is even smoother)
I hope some of you found this helpful!
And I always stress that while these products didn't work for me, that doesn't mean they won't work for you, so I encourage you to get samples and test out the products yourself, you might be surprised! By the way, these primers are better at smoothing out skin surfaces in my opinion.
And a pic of me and Boba I took a while ago cuz I haven't shown my face in a while lol
Laters! ^__^
<3 Frances