Hello hello!
Woooooooo it's Wednesday XD I'm excited cuz that means we're closer to the weekend XD
Before I get into the review, I just want to do a little update about my life ╮( ̄▽ ̄)╭
So if you've read my "I'm still alive" post, which most of you did cuz a lot of ppl congratulated me XD I found a job, so that's mainly what's been keeping me busy (ˉ▽ˉ;) I work about 35~40 hours a week (almost full time); sometimes they let me off early when it's not busy. But every day after getting home from work, I'm just completely famished+exhausted+lazy... and all I feel like after a day of work is to huddle up in my sofa, game a little (got a few wii games for Christmas XD), and go to bed around 11:30pm XD this job is making my lifestyle healthy haha. So that's why I haven't been posting much... but I'm working on it XD I've been working very hard these days so I have many posts under construction =D
Okay enough of my boring life, now onto the review!
So I've always wanted to try out
Sigma
brushes, but since they got very mixed reviews, I never did. However, after doing much "research," I narrowed it down to these brushes, which got much praise on the Youtube community! (MissChievous, xteener, HollyAnnAeRee all really liked it!)
First, I want to comment on Sigma's shipping.
I love how they have different options for shipping
=D For example, I chose the cheapest, USPS First Class, which cost me only about $2?!
The cost is dependent on the weight of your purchase.
Sigma brushes come in a red pouch like this: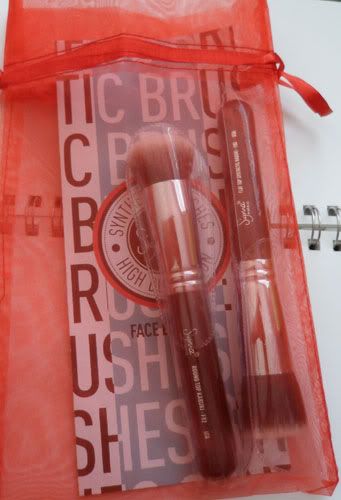 And they gave me a gift! E25 blending brush. Which I really like =) it's very soft, does not scratch my eye at all. Compared to MAC 217 it's more fluffy/not as dense and more bendy. I'm impressed by this brush quality =)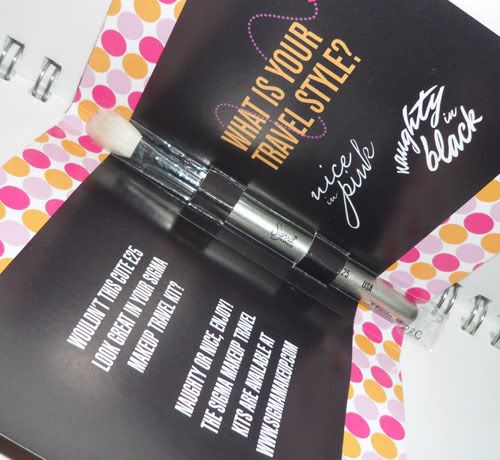 This is the Flat Top Synthetic Kabuki Brush F80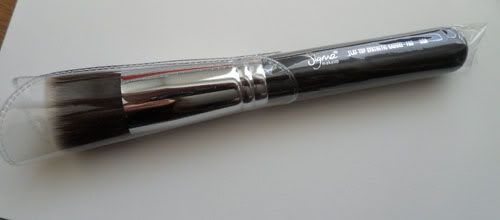 $16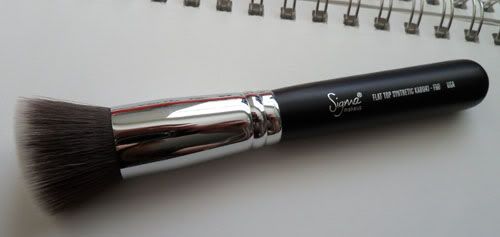 And this, is the Round Top Kabuki brush F82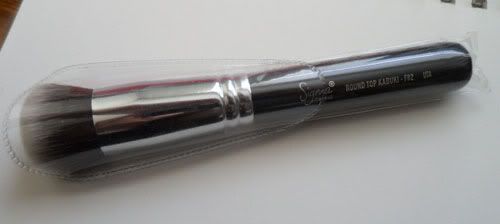 $16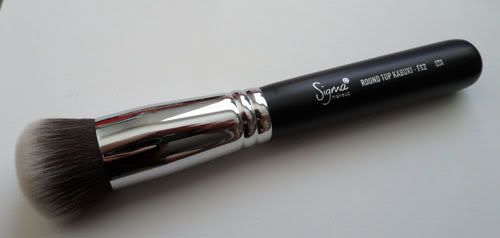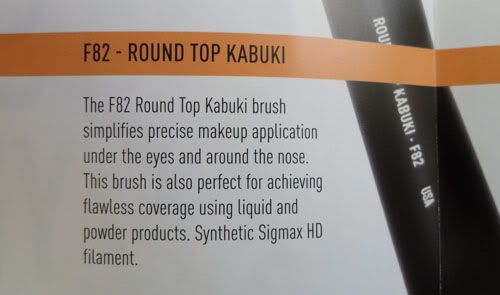 So overall I do really like these brushes, especially I love the F80!
Just because F80 is more bendy and feels softer. F82 is firmer so it doesn't feel as soft. But their bristles are both really soft and didn't scratch my face at all!
These brushes are SO dense, the hairs so fine, that it makes applying liquid foundation effortless and flawless <3
A note however, although in the brochure it says F80 is perfect for liquid, cream, powder products,
I actually found I only like using it on liquid foundation, and I mean very runny/thin liquid foundation, that's when I feel like the brush is working to its best
. For examples, Lancome Teint Idole Fresh Wear, Givenchy Photo'Perfexion, Estee Lauder Double Wear, these foundations all qualify as very runny/thin liquid foundations. With these runny/thin liquid foundations, these Sigma brushes really do give that flawless application and finish.
Thicker liquid foundation, like Makeup Forever HD foundation, however, don't work as perfectly
with these Sigma brushes; personally like using sponges for thicker foundations. I also want to add that
gel foundations and BB creams don't work as perfectly with these brushes either
; I like to use my own fingers for those. So that's something to consider if you're thinking about buying these brushes, depending on what kind of foundation you use.
Also personally I like to use fluffier brushes for powders =P These brushes would work for powders too, but they go on more heavily; personally just like to dust a thin layer of powder over my face. It's really all a matter of preferences.
And I think that's all I have to say for these brushes? Can't really think now cuz it's 11:07pm and it's close to my bedtime XD
Product demo video!
PS: This was filmed on the same day I filmed the makeup/skincare haul video which was a while back, in case you're wondering why am I still "breaking out from that time of the month" like 2 weeks after that vid XD) haven't got a chance to edit this post until now lol
Hope some of you found this helpful ^_~
<3 Frances