Hello!
Let's talk about my skin problem xD
GROSS SKIN PROBLEM PICTURES AHEAD, YOU'RE WARNED!!!
LOL
So normally, my skin is pretty good... just some redness like any other fellow homo sapiens, and never-ending blackhead obsession... XD Never had acne before (although who knows maybe down the road I might get adult onset acne lol) I rarely break out... unless reacting to products or that time of the month LOL or I eat something excessively sugary/greasy or just not prepared well...
BUT....
Occasionally, I will struggle with some pretty bad skin problems... I saw many many doctors (even Chinese medicine too) and none could tell me what it is... at first I thought I'm allergic to something, but then the doctors told me the affected areas shouldn't spread with scratching if it was allergies (is that even true?) I think it's probably just some kind of eczema. Anyway, I've decided putting a name to it isn't important. Suffice to say whatever it is it falls under the "atopic dermatitis" umbrella LOL.
So here's the detailed process
If any one has my condition, please please please do let me know!
1. Skin starts to feel itchy (usually starts with a "spot" or two. When I say spot it's more like a lump... kind of resembles a mosquito bite), soon became swollen, and I will have circular patches of affected/swollen areas mainly along the sides of my face, and my chin, sometimes on my cheeks.
2. Skin is swollen, inflamed, extremely irritated. Then the affected area begins to crack and tear ='( flesh exposed and extremely painful
3. Skin starts trying to repair itself since it's torn... new skin started to form while the affected skin started to shed
4. Skin heals itself
The weirdest thing is, this skin problem has a cycle thing going on... #1-4 is the full cycle, and a full cycle from start to end usually takes about 3-4 weeks to heal. After that, if that external stimulant that triggered this condition is still present, the whole cycle would repeat itself. IT. IS. NOT. FUN.
Ready for gross picture?!
These pics were taken in 2007. I took them because I wanted to show them to doctors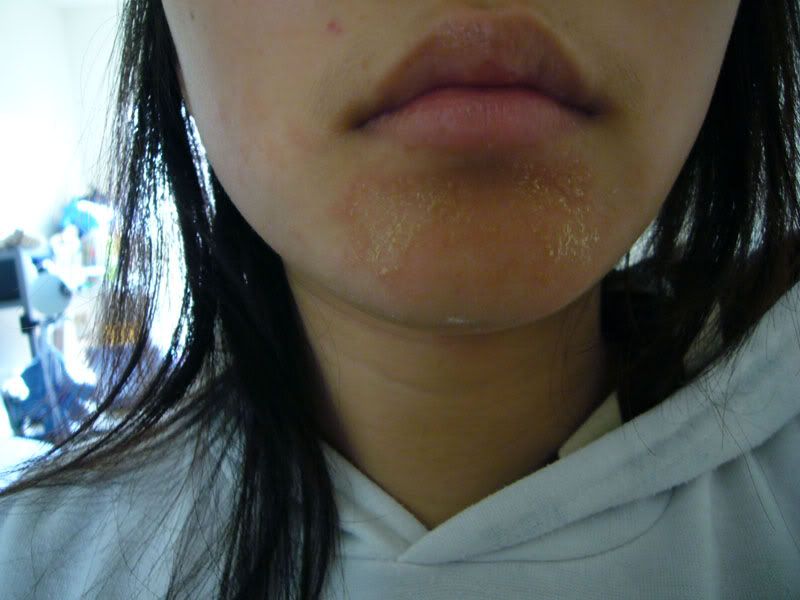 Believe it or not, this is my skin already in healing process... since it's shedding. It looks yellow cuz at that time I was using Clinique moisturizer which is yellow. At that time that was the only moisturizer my face could take since it was fragrance-free and allergy-tested.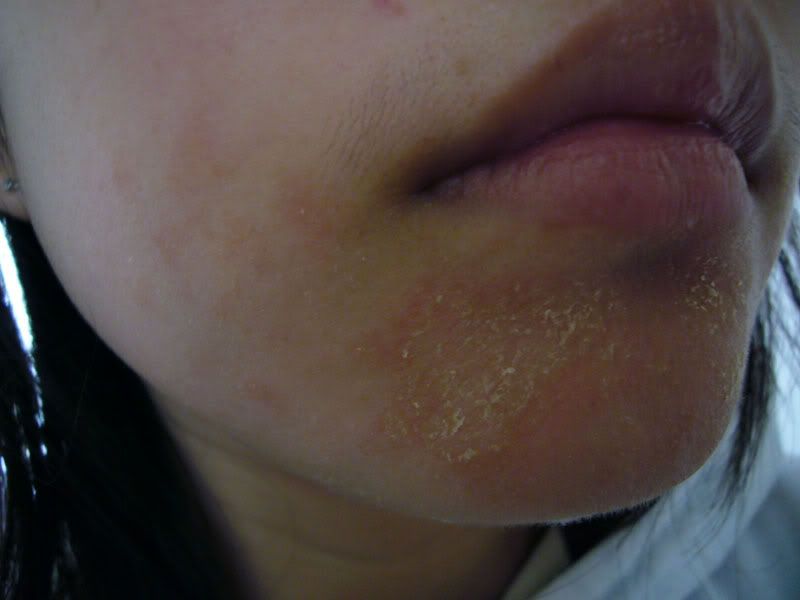 So painful ='(
Some remedies that help with my skin
At that time I was experiencing the skin problem, it was so inflamed and painful, that I decided to put some chilled yogurt mask on my face to soothe the pain, and to my surprise, the skin problem was under control and soon went away.
So you all remember a while back I was complaining about breaking out in late 2010? Well yes it was precisely this condition I was talking about, except with the help of natural yogurt, I was able to control/reduce the problem to this:
pretty. freaking. amazing. isn't it?!
The picture isn't very good, but my chin was more red and swollen in person, and there were little red bumps that didn't show up too well in the pics. It didn't look bad but I can tell you it itched like a mo**** f*****!!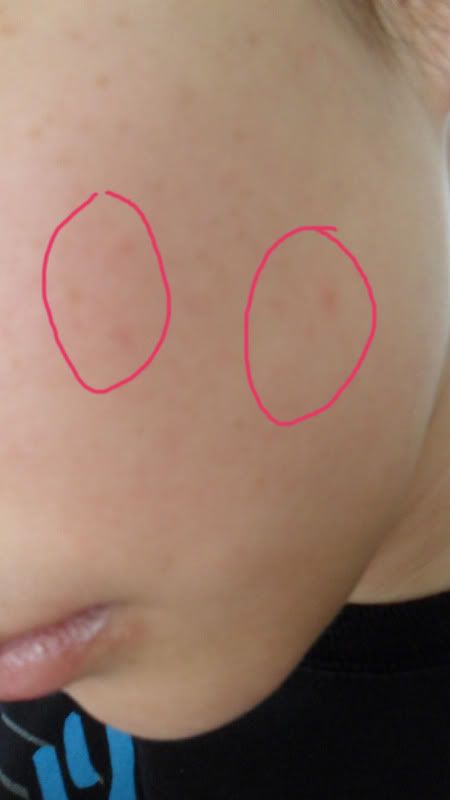 You all can see the AMAZING results I got from using yogurt mask right?! It's insane. If it wasn't for this yogurt mask, I'd have to look like these pics I took back in 2007. Now I'm a believer of natural yogurt masks. So if you're like me who always watches tutorials and never try anything out XD at least go try out this mask =]
Even this yogurt mask helps me significantly, my skin still will take a full week to a week and a half to heal completely.
Some of my own advice to using this mask:
1. Yogurt is all you need lol. Use 100% natural, plain yogurt. Please do not use flavored yogurt! It's all sugar lol. Fruit will add vitamin C to the mask which means extra brightening, which helps with scar prevention actually, so I'd say fruit is a nice addition but not a must.
2. You really don't need that much. I usually just use one strawberry with one table spoon of yogurt. I like to start fresh every time-- letting it sit in the fridge increases the chance of bacteria growth.
3. Cut your fruit on paper towel, instead of a cutting board. Your cutting board probably has a ton of bacteria accumulation... and this fruit is going to go on your face...Or better yet, just mash the fruit up with a fork in a bowl lol.
Update: I discovered the best way to keep my problem under control XD while hydrocortisone actually doesn't do much if the break-out process is in full swing... if I apply it at the first sign of a "flare" and just keep the itching under control, it usually just goes away O_O++ I usually just keeping apply hydrocortisone on the "lump(s)" until it/they go way. Takes anywhere from 3-7 days depending on how severe it is.
I strongly encourage you guys to try and use oatmeal as a cleanser if you ever have some sensitivity issue going on. Seriously, oatmeal is my savior whenever my skin just can't tolerate any sort of chemical cleanser.
I wrote a detailed post about it a longgg time ago. Check it
here.
Other products that help:
1. Origins Dr. Andrew Weil Mega-Mushroom facial cleanser and face cream.
There's also another skin problem I want to touch on, and it doesn't happen on my face, but rather, on my neck. I actually know people who actually have this same condition! It usually happens during the change of season or something, not quite sure.
This pic was taken in 2009?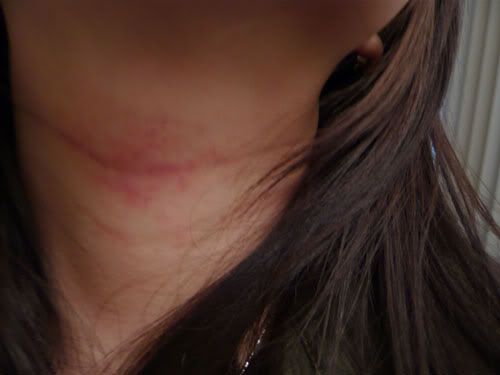 It looks like a rash, maybe it is? It's extremely itchy and skin feels really raw.
Unfortunately, my natural yogurt remedy doesn't really help with this skin problem :(
What did help though... surprisingly, was my
Lancome Genifique Youth Activating Concentrate.
Remember in my review how I said I could feel no difference? Well it did make a difference on my problematic neck area! (However it didn't really help my "face" problem... really not sure how the heck these things work)
I didn't take the initial problem pic for my neck this time, but it's basically the same as the 2009 one.
The next day after using Genifique, I found that my neck healed almost 50%.
After three days, my neck was back to normal. So I guess the Youth Activating Concentrate does restore your skin's healing properties?!
By the way I don't usually apply the concentrate on my neck, it was an accident I discovered this XD was blending the excess concentrate to my neck, and miraculously it helped =] cuz usually I probably have to wait a month until my skin decides to heal itself.
Hope someone out there found this helpful?! lol??? <3 Frances