Hey Guys!
I went ahead and do a review on all the eyeliner's I've ever used... =P
*** Before I start, I just want to say that I always always wear water-proof eyeliners because my Asian eyelids smear my makeup easily. The same goes to mascara. If you're one of those people who hates water-proof stuff because they're too hard to just wash off with water, then maybe I wouldn't have the best opinions.
Okay now let's start! :P
1. Bobbi Brown Long-Wear Gel Eyeliner ($21)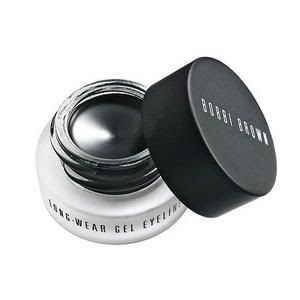 - I have in Graphite Shimmer and Espresso Ink, and I love them both :)
- Wide range of colors =)
2. Bare Escentuals Buxom Lashliner ($15)
- I have it in Sequins (black with glitter).
- The only thing I really dislike: "Sequins" contains glitters, not shimmers, and they sometimes do fall into my eyes after the eyeliner had dried, which can be irritating. Also, glitter is uneven (so it can look cheap). I prefer the fine shimmer in Bobbi Brown-- the shimmers that are part of the gel liner, instead of glitters that are added to the gel liner.
- I think I will go back and buy the "Leatherette," which is the black one without glitters once I'm out.
Here's the item description from Sephora. Apparently it contains some good ingredients :)
"What it does:
Lash addicts beware: Buxom Lashliner is highly habit-forming. This may look like just a liner, but it's also a thickening and conditioning treatment that instantly takes the appearance of your lashes from hardly any to very many. This mineral-rich, paraben-free, whipped gel formula glides on like a liquid liner and dries to a long-wearing smudge proof eyeliner. The formula is made with natural ingredients, including vitamins A, C, and E; Honeysuckle; Jojoba Oil; Soy Protein; Tourmaline; and Biotin (vitamin B), which support healthy lashes."
Now, did I grow more eyelashes from using this?
Yes, I do notice I did grow out some bottom lashes. But the effect is
not enough to make that noticible difference
though lol! So if you want lash-growing products, this wouldn't do the trick for you.
3. Stila Smudg pots ($20)
- I got the smudgepot trio from beautycrunch.com for $12-- I have it in black, bronze and gray.
- Gray is not very wearable in my opinion, so I normally use it as eyeshadow base.
- Love the bronze liner :)
- Pretty good staying power
- Does dry up a little fast.
4. MAC fluidline ($15)
- I have them in Blacktrack and Macroviolet
- Blacktrack works great, but Macroviolet smudged everywhere-- so I think the formula is inconsistent?
5. Kanebo Kate Gel Eyeliner (?)
- I had it in brown
- Personally did not like it at all, staying power is horrible, and color pay-off is pretty bad that I have to keep going back to dip for more product
- The brush that comes with the gel liner is very soft, comparable to Bobbi Brown's ultra fine eyeliner, but a little bit more flimsy.
***
The staying power for Bobbi Brown, Stila, Buxom and MAC gel liners are pretty comparable. I wouldn't ever say one doesn't smear at all cuz sometimes there are just good and bad days. But with primer, the Buxom one stood out a bit more to me. Again everyone's different, but buxom works best for me so far.
5. MAC eye khol ($14.50)
- I got mega smearing from this
- Easy to smudge if you want the smokey eye effect (I'd rather use eyeshadow though, cuz sometimes it turns blue when I smudge it. I think the brush you're using to smear does matter).
- I do have a white one and it works great on my waterline.
6. Urban Decay 24/7 glide-on eye pencil ($17)
- I was excited about this eyeliner cuz ppl are raving about how it doesn't smudge at all... didn't work for my Asian eyes. Very smooth application for an eye pencil, but I got ULTIMATE smudging! I even used primer, set it with eyeshadow, still smudged. I ended up returning it.
7. MAC liquidlast Liner ($16.50)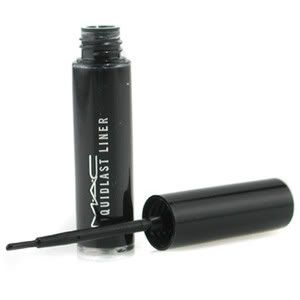 - I have it in black. I used to use this on lower lash line and the cat-eye since these are the mostly likely to be smudged.
- Super waterproof, staying power is pretty good
- Dries up very fast, which leads to hard application/ flaking
- Formula is so thick that it clumps on eye lashes
---- Below are all drugstore products, prices vary so I'm not gonna put the price up :P
8. Maybelline waterproof liquid liner
- Great appicator, easy control
- Waterproof, doesn't smudge but does flake off
- I'm not sure if this product is discontinued?! I can't find it anymore
9. Revlon Colorstay Liquid Eyeliner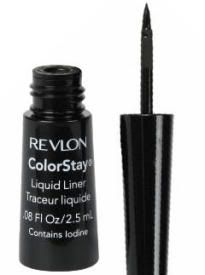 - Great applicator, the same as the Maybelline waterproof liquid liner
- not waterproof! =((
** I used to use 8 & 9 to apply my upper waterline, cuz it gives really easy control. But now I just use gel liner cuz I'm used to the tickling feeling from the brushes =D
10. Maybelline waterproof Ultra Liner
- The applicator sucks. Cannot draw a precise line and I'd say I'm pretty skilled at eyeliners
- very flimsy (absolutely hate this... don't buy it... such a waste of money!!!!)
11. Loreal Carbon Black Lineur Intense Liquid Eyeliner
- Applicator a little bit too flimsy
- Not waterproof
- I didn't think the liner is "intense" at all, because the formula is kind of inconsistent. In fact I have to do a few strokes before the black is consistent.
Last few notes:
**Cons for all liquid eyeliners: they all make my eyes water!
** My favorite way to apply eyeliner would be using gel liner and a brush-- easy control, smooth application, and the effect is better than pencil but less intense than liquid, which is very natural :)
** Eyeliner pencils NEVER worked for my Asian eyes! They either will smear OR disappear (I'm not sure which one is worse).
That's all! Hope this review is hopeful to some of you :)
<3 Frances